Super League
Goal 2017 MSL Team Preview: Safety from relegation should be Melaka United's aim after long hiatus
---
BY        ZULHILMI ZAINAL       Follow on Twitter
---
Despite having just been promoted to the Premier League for the 2016 and not setting a lofty target, Melaka United FC did the unthinkable. They shot straight to the top to win the second tier title and earn promotion to the Super League for the 2017 season.
Perhaps buoyed by their instant success, club president and the Melaka state Chief Minister Datuk Seri Utama Idris Haron has set a lofty target for the Mousedeers this season; to capture one trophy.
Having such an aspiration is commendable for any club, but for a recently-promoted side to set such a high objective may prove to be detrimental, when they should be focusing on safety instead, especially when Idris has been quoted as saying that their 2017 war chest will not be any bigger than the previous season's
Even before the 2016 season was over, the club decided against renewing the contract of head coach Mat Zan Mat Aris, the same man who took them to the FAM Cup title and promotion to the second tier in 2015, and guided them to the Premier League title and promotion to the Super League in 2016. The parting was understandably acrimonious, but former Yangon United FC head coach Eric Williams was quickly signed to lead 2017 pre-season preparations.
Although the first round of the Super League has been played last weekend, Melaka fans as well observers were made to wait longer for the Mousedeers' first match back in the top tier, as the Kelantan-Melaka match scheduled to take place on Saturday in Kota Bharu had to be postponed due to torrential rain.
NOTABLE TRANSFERS (as at 24/1/2017)
The future of star striker Ilija Spasojevic has been the talk of the fans from the first moment the 2016 season ended, which is understandable as the Montenegrin was the Premier League topscorer, having scored 24 times in 2016. Rumour of his return to former team Indonesian side Persib was rife, so when it was finally announced that the 29-year old would be staying for another season with Melaka, the collective sigh of Melaka fans could almost be heard all over the country.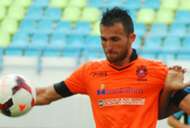 Ilija Spasojevic
But the remaining three imports did not make the cut, and they were replaced by Godwin Antwi, Omid Nazari and Sergio Aguero.
Local players brought in for the new season included evergreen Malaysia forward Amri Yahyah, former Harimau Muda striker Izzaq Faris Ramlan, formerly overseas-based youngster Tam Sheang Tsung, and Pahang's Fauzi Roslan.
Meanwhile Ahmad Ezrie Shafizie and Ferris Danial returned to Felda United following the end of their loan spells, while See Kok Luen and R. Barath Kumar joined Petaling Jaya Rangers. Young striker Nurshamil Abd Ghani has joined Selangor on loan until the end of the season.
However one gaffe has definitely embarrassed the club. Without having even played one competitive match for the Mousedeers, early pre-season signing former Iran international Omid Nazari has been given the axe by the club on Monday, to be replaced by South Korean midfielder Jeon Woo-young. Nazari reportedly has never reached the fitness level the club expected of him.
In: Godwin Antwi (DRB-HICOM), Sergio Aguero (FC Tatabánya), Jeon Woo-young (Jeonnam Dragons), Tam Sheang Tsung (Gainare Tottori), Izzaq Faris Ramlan (T-Team), Nazri Ahmad (Kuala Lumpur).
Out: Alexandru Tudose (released), Labinot Harbuzi (released), Yashir Pinto (released), Ahmad Ezrie Shafizie (end of loan), Ferris Danial (end of loan), See Kok Luen (PJ Rangers), Reeshafiq Alwi (released), R. Barath Kumar (PJ Rangers).
PRE-SEASON ACTION
The Mousedeers played a number of pre-season friendlies. They won against Felcra FC 2-0, drew against PKNP FC 2-2 and JDT II 1-1, flew to Cambodia to play against Boeung Ket (2-2), Asia Euro United (3-0 win) Army FC (3-1 defeat), and then returned home to play Felda (2-1 defeat) and Singapore's Geylang International (1-0 defeat).
GOAL'S PREDICTION
On top of returning to the Malaysian top tier for the first time in 10 years, board interference in footballing matters, as evident in the decision to not renew Mat Zan's contract, may make the effort to capture a trophy a much harder feat for Melaka. Playing in the top league will be a different ball game for Spasojevic, so goals may not be as plentiful as they were in the Premier League.
However, they are still too strong to be relegated, and are likely to finish the season in a mid-table position.