Mexico
Gio dos Santos fails to meet expectations in Mexico friendly vs. Bosnia & Herzegovina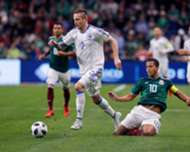 SAN ANTONIO — The stage was set for Giovani dos Santos.
He walked onto the field at the Alamodome wearing the captain's armband. Mexico manager Juan Carlos Osorio had praised him the day before, saying that the LA Galaxy attacker is in the best shape of his career.  Dos Santos himself pointed out that "I don't think anybody has their place safe in the national team in the world of football," and knew a strong showing Wednesday would go a long way toward making sure he's on the plane to Russia.
In Wednesday's 1-0 Mexico win over Bosnia & Herzegovina, though, Dos Santos was average in the first half and El Tri improved after he was taken off at halftime. Once again, it's up for debate whether or not the national team is better off with him as part of the World Cup squad.
Osorio is only the latest manager to try and figure out exactly what to do with Gio. He absolutely is talented. He can do what he wants on the ball, whether it's beating a defender one-on-one or finding a nice pass for a teammate. Yet, he's not a No. 10, not a winger and not an out-and-out forward.
Osorio has given Dos Santos a freewheeling role in previous friendly matches but this time wanted to try something different. After putting a starting lineup on the field that on paper looked as though it would have Gio sticking in the center, Dos Santos instead pushed out on the wing with Elias Hernandez dropping back behind him.
It was one of a couple of experiments Osorio said he wanted to try. It didn't work. However, Osorio said after the match he didn't give Dos Santos the hook because of poor performance.
"About Giovani, I totally disagree with you," the manager said in his post-match news conference. "I think he keeps showing that he's a player capable of being on the the ball, can go from the outside and to the interior and speaking with him these are two positions where he feels comfortable.
"Today we decided to play him as a winger on his natural side behind a single forward. I think he looked well when he played inverted. I think he's definitely a player who, from what we've seen, is going to keep preparing himself in the best way and he's going to be in top condition to fight for a place against anybody."
The experiential formation may be to blame for Mexico's lack of inspiration in the first half of the friendly, but some of the blame also will fall on Dos Santos himself. The formation looked to be set up for Dos Santos to use his talents against a Bosnia team considerably below the standard El Tri will see at the World Cup.
It also could've been a way for Osorio to see if Gio could provide him something that Europe-based players like Hirving Lozano and Jesus "Tecatito" Corona can't. Judged on Wednesday's showing, and previous recent performances in green for Dos Santos, the answer is no.
At the start of the week, it felt like the "Could Gio miss the World Cup?" talk was overblown. Osorio is outwardly happy with how Dos Santos trained in the MLS offseason, keeping himself in good shape and following the plan prepared by Osorio and his staff. Osorio had enough faith in Dos Santos to give him the armband, something it's easy to read too much into but is nevertheless a signal a manager has confidence in a player. And the manager seemed happy enough with his showing Wednesday.
Yet those questions still stand. There are only 20 places on the roster for field players, and questions about whether Dos Santos provides significantly more than anyone based in Europe or even a player like Javier Aquino, who came on at the break and put in a better showing, are legitimate.
Dos Santos will get another chance from Osorio. He's earned that much based on his reputation, if from not his play on the field against Bosnia. Maybe then he'll be in a more familiar setup and be able to excel. If not, his place in Russia will be far from certain.
"In the end, it's very clear that the coach makes the decision and us as professionals have to do as well as possible on the field," Dos Santos said Tuesday. The next day he delivered a performance that left Mexico fans wanting so much more.