Africa Cup of Nations
Ghana's 1978 Afcon winner Polo gives tips on how Black Stars can end trophy drought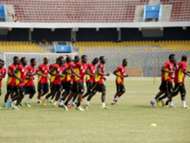 Former Ghana international Mohammed Polo says the Black Stars need to focus on the task at hand, as well as the total support of the nation to win the upcoming Africa Cup of Nations in Egypt.
Kwesi Appiah's outfit - four-time champions - are seeking to end their long wait for a title, their last gold remaining the 1982 success.
At the coming tournament - which takes place between June 21 and July 19 - the Black Stars will begin another quest from a tricky Group F,  which also includes defending champions Cameroon, Benin and Guinea-Bissau.
"We are going for glory so there's no need to concentrate on the monetary aspect [of winning the competition]," Polo, a member of Ghana's title-winning side in 1978, told Y FM-Kumasi.
"You have to be focused first and then be willing to achieve that feat [of winning]. It has been done before four times - yet we are still struggling to achieve it again.
"I think if the players concentrate, they should be able to come up with something this time because every time, we [successfully] qualify for the Afcon.
"It has become automatic and it looks as if we're losing the ultimate [focus of going on to win it].
"The players should come together and fight for each other and I'm sure they can make it.
"They need the blessings and prayers of Ghanaians and that should be the focus. Winning is possible of course."
Ghana will open their 2019 campaign against Benin on June 25, before facing Cameroon four days later.
The Black Stars' last game will be against Guinea-Bissau on July 2.