Ghana
Ghana to review team ahead of U-17 World Cup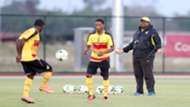 Ghana under-17 coach Samuel Paa Kwasi Fabin is looking to make some changes to the team ahead of their participation at the World Cup in October.
The Black Starlets are one of four countries that will represent the continent in India after making the last four of the recent African championship in Gabon.
Following their 1-0 loss to Mali in the final, Fabin believes there is still some work to be done.
"We are going to make some changes. We will surely make some additions to the squad before the World Cup," Fabin said, according to Ghana Sports Online.
"We have released the boys and will call them to camp again. 
"We had some of the guys who got injured which prevented them from joining the team to Gabon. We hope by the time we return, they will be fine.
"We also had some others who were not allowed by their teams because they claimed they had various competitions to play.
"We hope to get these boys and we will also do more scouting to try and get some few others as well."
India 2017 will be exactly 10 years since Ghana were present at the under-17 World Cup.
The Black Starlets will, however, play under a high image, having won the competition in 1991 and 1995.