Africa Cup of Nations
Ghana not ready to host a 24-team Africa Cup of Nations tournament - National Sports Authority boss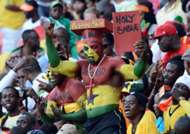 Ghana National Sports Authority board chairman Kwadwo Baah Agyemang is against the idea of launching a bid to host the 2019 Africa Cup of Nations.
Continental football's governing body Caf is currently accepting bids for the tournament after it stripped Cameroon of the hosting rights on Friday.
Baah's comments come in the wake of a contrary opinion by Freda Prempeh, chairperson of the Africa Women Cup of Nations Local Organising Committee, who has urged the nation to submit an application. 
"Ghana is not ready to host a 24-nation tournament," the NSA chief said, as reported by Myjoyonline.
"Just a few days ago, we were done with the eight-team Awcon. I am not saying we don't have the needed facilities.
"But when you look at the timeframe and the facilities that are at our disposal now, there is a lot of work to be done.
"We should bear in mind that, there is a bigger platform that is available for Ghana in 2023, that is the African Games.
"If we have any planning or any spending or any expenditure or any development of our facilities, that [successful hosting of the African Games] is what I think we should be looking at, not just rushing to grab anything."
For the first time, the Afcon will involve 24 teams requiring at least six stadia. Also, it will be played in June/July as against the previous January/February schedule in line with a Caf reform made in July.
Morocco and South Africa have emerged as front-runners for the 2019 hosting rights, while Egypt has ruled itself out of the running, saying it "will not compete with another North African country" - owing to the interest of Morocco.
Ghana has already hosted the Afcon on four occasions - independently in 1963, 1978 and 2008, and jointly with Nigeria in 2000.