Ghana
Ghana FA denies chaos at Black Stars camp ahead of USA friendly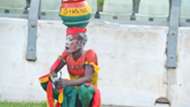 Ghana Football Association have refuted reports of a deliberate attempts by organisers of the upcoming friendly game between the Black Stars and USA to frustrate the Ghanaian contingent as they travelled from Hartford to Connecticut.
Reports on Friday suggested that two players were left behind and it took captain Asamoah Gyan to purchase tickets for them while one US based player had to travel by road for almost four hours to join his teammates in Connecticut. The team was also reported to have faced food shortage upon arrival and had to beg Ghanaians around to offer help.
However, Ghana FA's communication team have rebutted such claims, insisting each player took a business class and were accompanied by GFA top officials in all the planes although they travelled in pairs due to lack of flights.
"The Ghana Football Association's attention has been drawn to media commentary about the Black Stars journey from Houston to Hartford, Connecticut. We had to fly the Black Stars for the journey from Houston and Hartford because there were no direct flights on the journey," the statement read.
"Because of the distance, the FA decided to fly all the players on business class as is the norm in travel for the senior national team but because of the number, the airlines could not accommodate all of the players on one flight, so we had to break the team into groups, this clearly created some inconveniences.
"However, the federation ensured that each group travelled with at least a management member all the way through."
"For the two players who joined us in the US, the vice President of GFA George Afriyie, was on call at the airport to pay so that they will not travel on another separate airline. The airline regrettably could not accept cash. Captain Asamoah Gyan paid with his credit card and was subsequently reimbursed."
The statement added: "Since the team arrived here in Hartford many Ghanaians based here in Connecticut have come to support the team and out of enthusiasm have brought them Ghana food although unsolicited.
"The management had already arranged for food from the hotel's restaurant before the team's arrival and the team was fully sufficient with food. Let's also put it on record that the GFA only paid for the players, technical and management on this trip.
"Any other Ghanaian who travelled here be it journalists, fans, members of the Ghana football fraternity or relatives of officials of the GFA we not paid for by the GFA."
The Black Stars lost their first friendly game 1-0 to Mexico on Wednesday and will play the USA on Saturday