FIFA Club World Cup
Free admission to Singapore's largest celebration of the beautiful game held from 14 June to 30 July at the OCBC square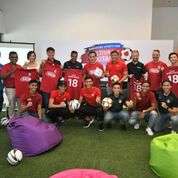 Billed as the largest celebration of the beautiful game in Singapore, the inaugural Singapore Sports Hub Festival of Football will be held from 14 June to 30 July at the OCBC square.  Previously called Singapore Football Week, the Singapore Football Festival partners local organisations from both public and private sector with the local football fraternity to organise a suite of football activities all around Singapore.
While the event will attract footballing fans and sport enthusiasts, it is also a perfect platform for family and community bonding for Singaporeans through sports and recreational activities. Moreover the Festival of Football serves as an encouragement for Singaporeans to pursue an active lifestyle through sporting activities and to most importantly have fun. These sporting activities include football clinics and a series of Sports Hub Community Play Day activities
Besides sporting activities, there are also a wide range of programmes lined-up for attendees such as musical performances and storytelling sessions. We all know that eating is the favourite past time of Singaporeans and the West End Bar and Makan Hub are being set-up to suit that purpose with an eclectic range of food options. As World Cup fever grips the nation, fans will be able to catch the screening of football's showpiece tournament at the Festival.
Members of the public can enjoy live screenings for most matches including all matches of the knockout stage and the final. If that isn't enough, attendees will also be able to meet and greet our local football heroes at the Home of the LIONS. As if all those attractions weren't enough, organisers have also decided to put exclusive promotions for 2018 International Champions Cup in Singapore matches up for grabs. With daily prizes to be won and admission to the event being free, do come down and show your support as we usher in the celebration of the beautiful game that we love dearly. In-depth details of the activities can be seen below.
Live Football Screenings
Most matches of the beautiful game including all knockout stage matches as well as the final will be screened live on a mega 66sqm LED screen at the OCBC Square.
The 2018 International Champions Cup in the United States and selected Singapore Premier League matches will also be broadcasted live, as well as repeat telecasts of the 2017 International Champions Cup in Singapore matches featuring top European teams FC Chelsea, FC Bayern and FC Inter Milan.
Complete with football inspired decorations, the OCBC Square will feature seating areas on artificial turf with bean bags and benches for friends and families to bond over the beautiful game.
Search for The Ultimate Football Family – Fan Experience Campaign
From 14 June to 15 July, the search for Singapore's Ultimate Football Family is on. Members of the public attending the live football screenings stand to win flight tickets and accommodation to watch their favourite International Champions Cup team play at home. There are also 'Money Can't Buy Experiences' such as the opportunity to be a player escort at a 2018 International Champions Cup in Singapore match up for grabs. Simply complete the Ultimate Football Family Crazy Card, post at least 2 photos and 1 video of their Singapore Sports Hub Festival of Football experience on their social media platforms, and purchase a 2018 International Champions Cup in Singapore ticket to participate.
Exclusive promotions for 2018 International Champions Cup in Singapore
Football fans can look forward to match ticket upgrades with any 2018 International Champions Cup in Singapore tickets purchased at the festival. There will also be opportunities to win official training passes and tickets to the 2018 International Champions Cup in Singapore matches (please refer to Appendix A for the schedule of matches).
"The Singapore Sports Hub is the place to be for football fans in Singapore in June and July. There will be plenty of live action from the global stage in Russia followed by the 2018 International Champions in Singapore right here at the National Stadium. We look forward to working with our partners at Singapore Sports Hub to promote and enhance a vibrant football culture here in Singapore by providing memorable and rich experiences for fans of the beautiful game," commented Mr Ned Negus, Senior Vice President, Sales & Marketing, Catalyst Media Group.
Meet and greet local football heroes
The Young Lions, together with players from the Home United Football Club will be here at the Home of the LIONS to engage fans and inspire the younger generations as they share their journey to becoming professional football players.
Fans can also look forward to two Singapore Premier League matches to be held at the National Stadium this June. Tickets promotions to the matches will be available exclusively at the Festival (please refer to Appendix B for the schedule of matches).
"As part of our renewed vision to be more collaborative, engaging and inclusive, we are grateful to be partnering with key stakeholders such as the Singapore Sports Hub and Sport Singapore to increase the programming in the football ecosystem in Singapore. With the many football activities centered in the Singapore Sports Hub as the Home of the Lions, and the various partners coming on board, the Festival of Football promises to be a dynamic event this year, bringing together people from all walks of life. The heightened programming will go a long way in boosting interest in the sport, which only bodes well for football in Singapore not only in the long-term but also as we build towards the year-end 2018 ASEAN Football Federation Suzuki Cup," said Mr Yazeen Buhari, Acting General Secretary of the Football Association of Singapore.
Mini tournaments and football clinics to be held at the mini football cage
A mini football cage at the entrance of OCBC Square, in front of Stadium MRT Exit A, will host a series of mini football tournaments and clinics such as the King of the Hour football competition, 4v4 football tournaments and daily friendly games.
There will also be football clinics and programmes conducted by the ActiveSG Football Academy, as well as other football-themed activities such as table football, footvolley exhibition matches and clinics, pool football, and penalty shoot-out for members of the public to test their skills or simply have fun.
 Weekend parties with live entertainment and music acts
There will also be celebrity appearances, comedy acts and local favorite bands performing on stage throughout the Festival.
Youth performers from the National Youth Council will be showcasing their talents on stage during the weekend parties at the Festival. Some of these artistes are mentees from National Youth Council's SHINE X *SCAPE Talent Development Programme, a platform which provides mentorship and opportunities for youths to develop their talents and passion, and is one of the key features of the SHINE Festival.
SHINE Festival, which is powered by the National Youth Council, is the annual high-point celebration of youths in Singapore, showcasing youth talents in the areas of arts, dance, media and music. Now into its 13th year, SHINE Festival is ever evolving to fulfil youth interest and trends.
West End Bar & Makan Hub
Riding on the success of the West End Bar and the Makan Hub at the HSBC Singapore Rugby 7s, this food and beverage concept will make its return at the Singapore Sports Hub Festival of Football (please refer to Appendix C for key programme highlights).
For more details on the Singapore Sports Hub Festival of Football, visit www.sportshub.com.sg/FOF.
For more details on the Singapore Football Festival, visit www.footballfest.sg.