Mexico
Fortune favors bold Mexico as Confederations Cup path gets easier with Portugal draw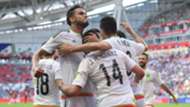 Heading into its Confederations Cup opener, Mexico said it had no fear of Cristiano Ronaldo and Portugal. El Tri showed no fear Sunday, opening the tournament with a point in a thrilling 2-2 draw in Kazan.
REPORT: Moreno's header rescues point
The game plan was to do what in many respects Mexico has done best under Juan Carlos Osorio. The team looked to move the ball among itself and generate chances after drawing defenders in one area. Mexico's attacking players worked hard to win the ball back the moment after losing it, high up the field. Miguel Layun pushed up from the left as the midfield trio ran for 90 minutes looking to keep the ball. 
And it paid off.
Mexico dominated possession and was able to find chances after the weaknesses it knew it had going into the game - namely the lack of any sort of right back or player capable of stopping Ronaldo from turning and using his speed or finding a teammate with a diagonal pass - showed.
However, Mexico continued with its plan and saw it pay off with Javier "Chicharito" Hernandez's equalizer. It was a bold plan for Osorio, coming on the anniversary of El Tri's embarrassing 7-0 defeat to Chile in which the coach stubbornly refused to make modifications after his team went down early and ended up suffering for that choice. This time, it paid off. After another defensive error saw Portugal beat the superb Guillermo Ochoa, Hector Moreno's header in stoppage time from a Jonathan dos Santos corner kick meant Mexico earned a point from its clash with the European champion.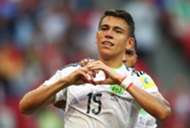 "We knew their style was going to be on the counterattack. They were looking for the mistake," Ochoa said on the television broadcast after the game. "They've got dangerous players up top who have good timing in the area, but you can't let them make you nervous. I think at the end of the day, it's a deserved result because the team played our style, showed our characteristics and played our game."
It would've been tempting for Osorio to try something else out playing against Ronaldo, knowing that Carlos Salcedo may be overmatched on the right-hand side. But Osorio kept his faith in the system and put his team in position to get a victory. The same can't be said of Portugal manager Fernando Santos, who may rue his decision to leave Bernardo Silva on the bench and not to have any sort of plan B in attack after the plan A of finding Ronaldo over the top as the team did with its first goal.
While there certainly seemed to be some things pulling in Mexico's direction, between the late goal, the tournament's VAR correctly ruling out Portugal's apparent opener and questionable lineup choices from Santos, it could've been an even better start to the tournament for the North Americans. El Tri's attackers spurned several chances - perhaps that's why Osorio made the puzzling substitution to bring on Oribe Peralta late instead of opting for the speed of Hirving Lozano - that could've given Mexico three points. In the end, though, Osorio's side will take the deserved draw and run.
"We got almost 60 percent of possession. What Mexico did, going directly up against the European champion, is commendable and deserves praise," Osorio said in his news conference after the match.
Mexico's path now gets easier. Osorio will likely put some of his (in?)famous rotations into place against a New Zealand side that showed well but ultimately fell against a Mexico B team in a friendly last year. Then Russia, a team that while enjoying the comforts of home also isn't at Mexico's level.
This isn't what Mexico would've seen in its dreams, but it's also not the nightmare Mexico could've had with Ronaldo bearing down on the right side of defense against Salcedo and Diego Reyes. That was largely neutralized by El Tri keeping the ball and occupying Portugal with its own dangerous attacks. El Tri didn't start with three points, but it did send a message to the rest of the teams in the tournament. Portugal isn't the only team to be feared. Mexico, too, has a path to the final.