Republic of Ireland
Forde took Euro 2016 exclusion 'like a proper man' - O'Neill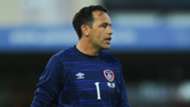 Martin O'Neill says that David Forde took the news of his exclusion from the final Republic of Ireland squad for Euro 2016 "like a proper man" and admitted that it was "tough" to narrow his squad down to 23.
O'Neill's final selection for the European Championship was announced after the 2-1 friendly defeat to Belarus at Turner's Cross on Tuesday evening and Millwall goalkeeper Forde, who featured prominently at the beginning of the qualification campaign was one of the notable omissions, with Keiren Westwood taking his place.
"David Forde is obviously a disappointment because he has been a big part of proceedings," O'Neill told reporters. 
"He made this wonderful save against Germany, a great, great save and we end up getting that point, which eventually takes us to France. That's a disappointment to him. He has been excellent for us and about the place too. 
"It's a shame, it's going to happen and that's the nature of the game."
The former Celtic manager admitted that it was difficult for him to reduce his squad, knowing the disappointment that follows, and noted that it was mainly due to the passion that his players have to represent the Boys in Green.
"I'll tell you why these decisions are tough. They're tough because these lads want to play for their country and that's the big issue," continued O'Neill. 
"At club level, it's an every week occurrence. I'm not saying it's always easy to leave players out, particularly when big games or big tournaments are around the corner, but at club level you feel as if you will see the player two days later, you might sit down and half a chat.
"They want to play for their country, they've great pride in doing so and I'm not exaggerating, but that's the difference between that and club level.
"David took it as I would expect David to take it, like a proper man that he is, but [it's] a natural disappointment [to him], which I expect and that's the way it goes."