I-League
"Footballers have made up the story to create a chaos" - Pride Sports Club owner Sukanto Das speaks out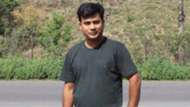 After being slapped with a number of serious allegations by his footballers and head coach, Pride Sports owner Sukanto Das is not ready to call it quits and stressed that he has enough proof to counter the claims. Here are the excerpts from an interview with the most-talked about Indian club owner of the last fortnight.
EXPLAINED: THE PRIDE SPORTS CONTROVERSY AND THE ALLEGATIONS
Goal: There are a number of allegations against you, starting from non-payment of salaries to mismanagement in running the team. Is there any truth to them?
Sukanto Das (SD): All the allegations brought against me are false. The players wanted to create chaos and hence came up with all these stories. The charges labelled against me are completely baseless and I have all the necessary documents to prove my claim. I have already mailed everything to the All India Football Federation (AIFF) on Monday night and the truth will be out for everyone to see.
Goal: What can be the possible motive behind their revolt then? Paul Pedro, the coach of your side, led them in the protest.
SD: They wanted the full payment to be made before the last match and when that didn't happen, they started circulating the stories. Pedro had two months' salary due at that point of time and that could one of the reasons. He wanted to return home as soon as the tournament got over but we couldn't arrange for it. We have handed over the ticket to him and he is leaving day after tomorrow.
Goal: Players are saying the hotel bills were due at almost all the venues.
SD: Completely false. I can give you the name of the hotels and you can cross-check with them (Goal's attempt to cross-check remained unsuccessful). I have all the receipts and all the documents have been submitted to the AIFF. I put them up at good hotels everywhere. In Hyderabad, we chose the hotel Fateh Hyderabad recommended. In Bengaluru, we stayed at Park Residency. Even in Jabalpur, the initial plan was to stay at the youth hostel, but I booked a much better hotel because they didn't like the hostel. I don't know what their expectations were but I did what I could do for the young players.
Goal: They also didn't have a proper training facility.
SD: In Jabalpur, the Police ground is the only full-sized field that has grass. It's the job of the association to look after the condition of the fields. How can we make the coach happy if he starts comparing this infrastructure with what he has seen in European clubs?
Goal: So, you are saying there was no mismanagement at all in the whole league campaign.
SD: There was a minor incident when we were going back to Jabalpur from Bengaluru, where we had only 17 reserved seats. Other than that it was seamless. Another mistake I did was to recruit players based on recommendations of many people.
Goal: Is there a single player who is not part of this campaign against the management?
SD: It would not be right to take names of players at this moment.
Goal: Pride Sports is a new club. Tell us a bit about how you do you operate and the revenue streams of your company.
SD: We are a five year-old company and we play 22 international matches every year. We have a residential academy and take young players out for exposure trips which are sponsored entirely by corporate clients. We will be travelling to Malaysia soon.
Goal: You have a deal with the Madhya Pradesh Football Association (MPFA) as well. They are complaining that you have not paid them a single penny and the cheques have also bounced.
SD: Yes, the fact that the cheques had bounced is true. First, they told me that it will be 5 lakhs for three years but later said that I will have to pay 5 lakhs annually. I didn't object to that too. Once I realized the cheques have bounced, I transferred 8 lakhs to their bank account. Also I took some young players of Madhya Pradesh to a foreign tour, which cost me 45 lakhs. I didn't take a single penny from the association or the players. The best decision that I have made is to use wire transfer in all transactions and not to pay by cash. If required, I can submit all the proofs about this too.
Goal: Will you be interested in participating in the second division league next year as well?
SD: I am sure we will be cleared of all allegations once the AIFF looks into the matter. See, my objective was not to win the second division league. I just wanted to give some young players a chance to compete against the country's best. Next year, I want to be part of it again, but I made a few mistakes this year and the aim will be to steer clear of them in next attempt.