Cristiano Ronaldo
Football quiz: Prove your knowledge and win a Starz Play Subscription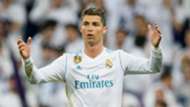 Are you obsessed with football and interested in knowing all details about it? Then this test was designed for you!

Goal teamed up with Starz Play to launch a quiz that includes questions about this football season, with a special prize to the ones who perform well.

If you think your information is good enough, take the quiz and get a chance to win a three-month subscription with Stars Play to watch best movies and TV series.