U17 World Cup
Minister of State Youth Affairs and Sports Col Rajyavardhan Rathore - FIFA U-17 World Cup was an eye-opener
Minister of State (Independent charge) Youth Affairs and Sports, Col. Rajyavardhan Singh Rathore said that he expects Indian football to make huge strides in the coming years.
Speaking at the fifth edition of the International Convention on Football Business organized by the FICCI (Federation of Indian Chambers of Commerce and Industry) and the AIFF in New Delhi, the minister stated that football was moving in the right direction in the country.
"Things are really good right now. The FIFA U-17 World Cup was an eye-opener for all," he said.
"The best part about the tournament, and I told this to the honourable Prime Minister too, was that we (India) were losing 4-0 but the entire crowd was still chanting," the minister added.
The Sports Minister stated that discussions were ongoing to make sports a mandatory part of school education.
"Football has an amazing capability to become very popular in this country," he said during his address to the conclave.
"Football in fact had a head start over cricket with the Durand Cup. The equation changed over the years. In another 10 years, if things are done right, the picture could become very different. It is one of the simplest games to play in that you only need one ball," he added.
The minister also spoke about the need for privatization in the sports and more stakeholders to come in.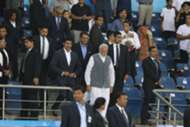 "This government is all for better facilities in sports. We are ready to provide the land, we need more private players to come in and manage the facilities on CSR (Corporate social responsibility)basis," he stated.
The Olympic silver medalist said that the country needed to target excellence in sports and widen the base of the participants. The minister spoke about the government's latest initiative, Khelo India school games, which is all set to begin from January 31.
The first-of-its-kind school games in India, Khelo India will be held at 16 venues across the national capital for children in the Under-17 bracket.
"We will provide scholarships to 1000 of the most promising sportspersons from the games. Each of these chosen athletes will be provided with an annual scholarship of 5 lakh rupees for a period of eight years," he said.
"We are starting with the U-17 category but will bring the age groups down in the future so that we can help budding sportspersons from an early age," he added.
"This is a new generation, a new India. It's time for everyone to come together and stop pointing fingers," he said to conclude.
The conclave saw eminent captains of the industry, sportspersons and administrators speak about the challenges facing Indian football currently and strategies to overcome them.  The event saw the signing of a MoU between the FICCI and LaLiga on Grassroots Football Development.
The Sports Minister also releases a couple of Knowledge papers prepared by the FICCI on the current state and future of Indian football.