Ex-banker, Trump supporter and now Singapore's top professional FIFA gamer, meet E-sports star Wen Jun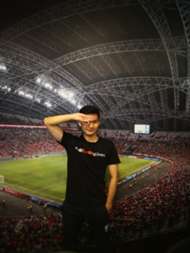 In the final post of this three-part special, E-sports star Wen Jun addresses his arrogance, gives advice to budding gamers on how to handle criticism and discloses to Goal Singapore his support for Donald Trump.
What advice would you give to a budding gamer who wants to be the next Hibidie, especially in terms of handling criticisms?
I would say don't ignore the haters because they are a very good source of motivation. For example if you encounter an extremely unfit guy whose never played football in his life giving you stick, you need to make sure you shut them up.
In order to shut them up you have to perform well on the virtual pitch and make sure that your performances do the talking. I always love to make my haters become my fans and that's happened throughout the years. It's about earning that kind of respect from these people.
Being a Donald Trump supporter one of his memorable quotes was "No one likes a loser." Unfortunately this is the reality and because I am a winner I have reached this level. With regards to my arrogance, I feel I have the right to be so because of what I have accomplished. Moreover it is this arrogance that has driven me to want to be better and keep succeeding.
What are your best qualities as a gamer?
I believe I know how to market myself really well. I have been in this industry for so long to know that first you need to play well and second is you need to generate content.
So for me for every event I attend, I would speak to the tournament directors to make sure I get the best angles of myself to make compilation videos afterwards. When sponsors see all these, they know you are the real deal because you take care of the social media side of things which is extremely crucial.
You have to manage every aspect of being a competitive gamer and make sure you handle the media really well.
How do you sum up yourself in one word?
Peculiar.
Away from the gaming world, what is Wen Jun like?
I have pets. I have three birds. Long story short, I took them in when they had no one to care for them.  Additionally I love watching Netflix.
For me my life has been quite hectic and so with the free time I have, I don't want to go out but instead just lie down and have a nice glass of wine while watching re-runs of Friends. It is important to balance your life and know when to take a break.
Basically beneath the façade this is who I am truly.
When will we see you get married?
Right now personally there's no rush as I want to make sure my career is taken care of properly. I want to beat my dad to retirement and then maybe we can talk about marriage.
Read Part 1 of this series  here .
Read Part 2 of this series here .