eSports
FIFA 18 gameplay: Five key features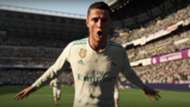 The most exciting part of getting stuck into a new version of FIFA is experiencing all the changes and modifications that have been made to the previous year's game.
EA Sports aims to improve the game every year and the 2018 edition is no exception.
From crossing to holding the ball up - how has the game developer altered or enhanced the gameplay this time around?
---
CROSSING
---
A brand-new crossing system has been introduced with vastly different mechanics to FIFA 17.
The standard cross has more pace and curve on it, compared to the more-looped delivery from last year, which makes the function feel more realistic.
If a player attempts to send in a cross while the body position is not right or is travelling at high speed, it is more difficult to execute that perfect delivery to create scoring opportunities.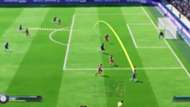 Low and high crosses can still be delivered by holding the left and right bumper's respectively.
EA Sports have attempted to make the function a much more important part of the game than last edition.
---
PASSING
---
In FIFA 17, one press of the long pass button could generally execute a cross-field ball that would get a player out of trouble.
It's not so easy this time around.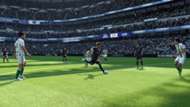 A player will require much more skill to pull the move off, including the length of pressing the button and body position.
It's a risk-reward maneuver that when done correctly will open up attacking avenues, but if not could result in an opportunity for your opponent.
---
POWERED TACKLE
---
A powered tackle has been introduced into the game alongside the standard standing tackle.
By long-pressing the standing tackle button, a defender will make a stronger, more physical effort to win the ball - increasing the chance of breaking up the play and giving away a foul.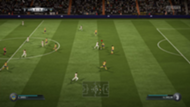 The developers have tried to make passive defending a thing of the past and force players to make a decision and be smart about their timing with tackles.
The ball can also be won by not pressing any tackle buttons at all, and just positioning the body cleverly enough to impact an opposition player.
---
HOLDING UP BALL/SHIELDING
---
Shielding is again an overpowered function in the game that can help with shrugging off that close checking, pesky defender.
By taking possession at feet and then shielding with your back to the opponent, a player can then roll an opposition defender or create space to make an attacking pass.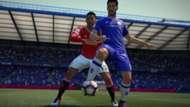 It's important to only use this feature with strong players such as Romelu Lukaku, otherwise it will be an ineffective move.
---
QUICK SUBSTITUTIONS
---
A new feature has been introduced allowing players to make substitutions on the run during stop plays and not have to press pause and go into the menu screen.
This is done by long pressing the back bumper when the ball goes dead.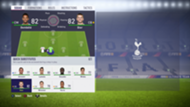 You can preset substitutions for players. For example, you can have Manchester United's Anthony Martial poised to replace Marcus Rashford at any time.
The computer AI will suggest like-for-like substitutions if you haven't preset any moves.