Manchester City
'Fernandinho one of the best' - Man City midfielder earns high praise from De Bruyne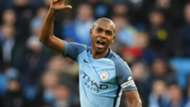 Kevin De Bruyne considers Manchester City team-mate Fernandinho to be "one of the best" players he has ever worked with.
The Brazilian has been a big miss for City over recent weeks, having been forced to serve a suspension.
He has sat out meetings with West Ham, Everton, Tottenham and Crystal Palace, with Pep Guardiola's side dropping five precious Premier League points during that run.
Kompany: Injuries will not break me
They have been able to progress through to the fifth round of the FA Cup, but a top-flight title challenge has faded badly.
Fernandinho is ready to step back into the fold, though, and De Bruyne expects a proven performer to make a positive contribution.
He told City's official website: "I think Ferna's one of the best holding midfielders I've ever played with and its worth remembering that he's 30 years-old – incredible that he has so much energy – you don't see that everywhere in players who are 30 so we are very lucky to have him."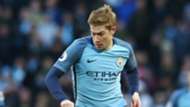 On the Brazilian, who has not missed a minute of Premier League football that he has been available for this season, De Bruyne added: "Obviously we've missed him.
"He's been an important player throughout his time at City and he plays a pivotal role for us in midfield and helps keep everything organised - plus he's also very good on the ball.
"Now he's served his ban and is available for us again so it's a big boost for the team because he's missed seven games this season through suspension.
Pep watches Monaco with supermodel
"If you get a red card in England you're banned for three or sometimes four games, which is unbelievable, but there's not much you can do about it. I think one game is enough but those are the rules, I suppose."
While frustrated to have been without Fernandinho for some important fixtures, the midfielder is returning at a useful time.
City have the opportunity to get their top-four challenge back on track against West Ham, Swansea and Bournemouth, before attention then turns to a European showdown with Monaco in the last 16 of the Champions League.