FA Cup
Shukor targets clean sheet at Batu Kawan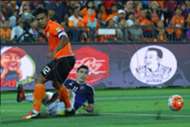 As luck would have it, Felda United will be facing PKNP FC in the cup competition knockout stage for the second season running. Having played each other in the quarterfinal of the 2017 Malaysia Cup, the two teams will be going head to head in the quarterfinal of the 2018 FA Cup this time around.
Ironically, PKNP were one of the teams that benefited from Felda's inability to comply with the Football Malaysia LLP registration regulations that caused the latter to drop to the Premier League. Whereas the former were given a bump up to the Super League despite only finishing third in the 2017 Premier League.
With the first leg being played at Batu Kawan Stadium on Saturday April 7, the afternoon kick-off will be a punishing one, considering the long break that the teams have had due to the international fixtures this past two weeks.
As such Felda's captain Shukor Adan is asking that his team mates go into the match fully prepared for a tough fight, indicating what would considered a good result to achieve there.
"Playing away, the main focus is to ensure that we don't let PKNP score to bring over to the second leg in Jengka. This is because PKNP are not an easy team to be as they've surely matured after playing in the Super League this season."
"We need to give our highest commitment and work hard to make sure that we come away from the first leg with a victory. Playing at home will surely give PKNP the advantage and that is why we cannot return with a defeat if we are to advance to the semi-final.
"This season, we can't let opportunities like this to pass by as we want to do better than just reach the quarterfinal," said Shukor through a Berita Harian report.
Last season in the Malaysia Cup, PKNP surprised everyone by winning 3-1 at Tun Abdul Razak Stadium in Jengka but eventually succumbed to a spirited Felda come back in the return leg.