United States
Fan Spotlight Series: Born in the USA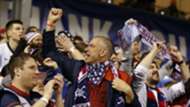 Welcome to the sixth installment of the Fan Spotlight Series inspired by McDonald's new Signature Crafted Recipe sandwiches. In this series, we shine a light on how fans creatively celebrate and support their teams.
Ahead of the U.S. national team's FIFA World Cup Qualifier against Trinidad and Tobago on Friday, we talked to Steve Brockman about how being a U.S. fan has changed dramatically since the 90's with the rise of youthful and passionate fan groups like Sam's Army and the American Outlaws.
Get a taste of the series in the video above.