Falconets ready for FIFA U-20 Women's World Cup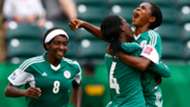 As the FIFA under 20 Women's World Cup kicks off on the 5th of August, Official broadcast partner of the completion, StarTimes have urged the Super Falconets to do the country proud by bringing the cup home.
The biannual tournament will last until 24th of August, as 16 teams battle for glory.
According to Startimes, all 32 matches will be brought to Nigerians live and in HD on StarTimes World Football and Sports Focus for the entertainment of its subscribers across Africa.
In a good-will message to the Falconets who are also Two-time runners up in previous competition, StarTimes urged the team to do Nigeria proud by bringing home the cup. The Falconets begin their campaign with a huge test, against Germany at the Stade de Marville in Saint –Malo on Monday, 6th August. Germany edge Nigeria to lift the trophy the two times Nigeria got to the championship final in 2010 in Germany and 2014 in Canada.
Non-subscribers can watch all the matches live and in HD on StarTimes mobile App, available for download here – http://bit.ly/2htdztR