FA Cup
Suffian asking for calm ahead FA Cup final repeat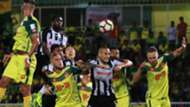 FA Cup action returns this weekend with 16 teams battling it out for a place in the quarterfinals. Easily the most eye catching tie of the round sees Pahang welcoming Kedah to Darul Makmur Stadium on Saturday.
The same two teams played out the 2017 FA Cup final where eventually ousted Pahang, a match that is still in the back of the head of Datuk Mohammed Suffian Awang, the Pahang team manager.
Kedah won the final played at Shah Alam Stadium last year with a tight score of 3-2, a match which also saw a first half sending off of Francisco Insa Bohigues, who now plies his trade with Bangkok Glass in Thailand.
"Kedah are surely looking to defend the trophy they won last season. Even though we are playing at home, the oponent will surely give us a tough fight. So we have to be careful and avoid making mistakes.
"Even though they lost to Kuala Lumpur in the Super League last week, that doesn't guarantee that Pahang can achieve an easy victory. The most important thing for the team to remember is to keep their discipline on the field," said Suffian through a Berita Harian report.
Pahang are in good form heading into the clash as they bounced back from a defeat to PKNS early in the Super League season to record three consecutive wins over Kelantan, Selangor and Negeri Sembilan respectively.
Meanwhile, Kedah's form has been less than impressive, results showing them to be a yo-yo side this season. Two creditable away wins against PKNP FC and PKNS FC was followed by the aforementioend defeat to KL last weekend.