WTF
EXTRA TIME: What was Ajax Cape Town's goal of the season?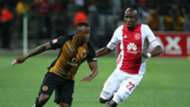 There's a few crackers and great build-up to Ajax Cape Town's goals here. You'd be forgiven if you thought you're watching Arsenal, which is perhaps why they're not competing for the title.
Sorry for the joke, Gunners fans :) Watch these goals by Nathan Paulse, Ndiviwe Mdabuka and two by Mark Mayambela. 
Which one's the best?
Last but not least, how about this cool finish by Nathan Paulse! #UrbanWarriors, is this Ajax Cape Town's goal of the season? pic.twitter.com/2WeVoQUg7z

— Ajax Cape Town (@ajaxcapetown) May 19, 2017
How about this unforgettable goal by Ndiviwe Mdabuka#UrbanWarriors, is this Ajax Cape Town's goal of the season? #WeAreAjaxCT pic.twitter.com/iEr2cuo9s1

— Ajax Cape Town (@ajaxcapetown) May 19, 2017
Mark Mayambela scored a few crackers this season, how about this one v @FreeStateStars #UrbanWarriors, is this our goal of the season? pic.twitter.com/tZ7IFrKw3l

— Ajax Cape Town (@ajaxcapetown) May 18, 2017
Mark Mayambela with another brilliant goal - this time in a 1-0 win#UrbanWarriors, is this Ajax Cape Town's goal of the season? pic.twitter.com/gzzgcgiQUD

— Ajax Cape Town (@ajaxcapetown) May 18, 2017