WTF
EXTRA TIME: Watch Thierry Henry at the Kaizer Chiefs village in South Africa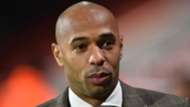 Don't get too excited Kaizer Chiefs fans! Henry's just been given his own personal jersey by the Kaizer himself. 
Henry's in the country promoting the NBA Africa Innovation with former Bafana Bafana soccer stars Lucas Radebe and Mark Fish.
You can now watch videos of Henry checking out the Chiefs Village, the club's awards and mementos.
There's also photographs of the France striker with Chiefs attacking midfielder Siphiwe Tshabalala. Surely, Shabba's going to remind him about how Bafana Bafana beat them at the 2010 Fifa World Cup. So, we hope Henry's got Shabba's autograph to take back to France.
Thierry Henry, Clint Capela and Jaylen Brown at the Kaizer Chiefs Village #NBAAfricaGame #Amakhosi4Life https://t.co/giGvcQfc7o

— Kaizer Chiefs (@KaizerChiefs) August 5, 2017
Amakhosi4Life https://t.co/fTiOYIFGyD

— Kaizer Chiefs (@KaizerChiefs) August 5, 2017
#Amakhosi4Life pic.twitter.com/4GLhXefAvn

— Kaizer Chiefs (@KaizerChiefs) August 5, 2017
.@ThierryHenry, @siphiweshabba and @D_cardoso_7 at the Kaizer Chiefs Village #NBAAfricaGame #Amakhosi4Life pic.twitter.com/N9EpNwTBrM

— Kaizer Chiefs (@KaizerChiefs) August 5, 2017
Thierry Henry, Clint Capela and Jaylen Brown at the Kaizer Chiefs Village #NBAAfricaGame #Amakhosi4Life pic.twitter.com/uBGvBRqC7l

— Kaizer Chiefs (@KaizerChiefs) August 5, 2017
.@ThierryHenry and NBA stars Clint Capela and Jaylen Brown are at the Kaizer Chiefs Village in Naturena @NBA_Africa #NBAAfricaGame pic.twitter.com/st9yhCUkR0

— Kaizer Chiefs (@KaizerChiefs) August 5, 2017