Thandani Ntshumayelo
EXTRA TIME: Watch Thandani Ntshumayelo's message for his supporters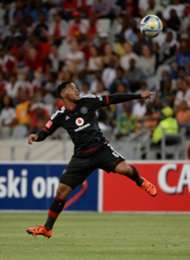 These latest social media posts by Thandani Ntshumayelo keep up the trend as he surrounded himself with inspirational stories in the community.
He has also attended youth training and spoken to his younger fans. Bibo has received much support over the past season, with fans getting behind him in his hope to return to professional football action.
On Tuesday, it was revealed that he has been cleared to return to action after successfully appealing his four-year ban.
Bibo was banned for four years in 2016 after he was found guilty of using cocaine, and the South African Institute for Drug-Free Sport CEO Khalid Galant had confirmed to Goal that the midfielder is free to play again.
You can watch Bibo's message to his fans below.
Thank you South Africa for the support and your kind messages through this difficult period. My main aim now is to get my career back on track and take care of my family. #GodIsGreat#GodLives#GodIsAble#BlessedBeyondMeasure#BiboIsBack pic.twitter.com/DJRTCHyJsC

— Thandani Ntshumayelo (@RealNtshumayelo) September 11, 2018
"You beat cancer by how you live, why you live and in the manner in which you live." Thank you @SADTUKZN for allowing me to shed some positive light on the kids as well as Makhosi Luthuli for your inspirational story on overcoming your battle with cancer. pic.twitter.com/OuVN5awPmi

— Thandani Ntshumayelo (@RealNtshumayelo) September 11, 2018