WTF
EXTRA TIME: Watch Lucas Radebe return to his old school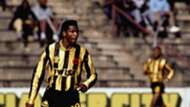 Former Kaizer Chiefs and Leeds United defender Lucas Radebe visits his old school and takes some football kits with him.
Radebe is also excited to be back at Ikaneng Primary School. You probably knew how nostalgic Radebe is, judging from the way he loves to also go back to Leeds and send us videos of his experiences in England.
This time he is sharing his videos back home in Soweto and you can watch him enter his old school thanks to this video on his official Twitter here.
#Ikaneng primary @HISTORY Went bak to my old school @beckym001 pic.twitter.com/kZ6o0qn4cA

— Lucas Radebe (@LucasRadebe) September 12, 2018