Kaizer Chiefs
EXTRA TIME: Watch Kaizer Chiefs keeper Itumeleng Khune compared to a wild cat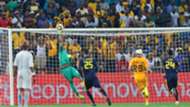 Users on social media admired the incredible catching skills of a wild cat and asked Twitter fans which goalkeeper had the same skills.
You can watch the amazing animal video below, and then see how South African football fans responded with videos and photos of Itumeleng Khune.
Then Khune himself shared the video on his official Twitter, being excited with the comparison and writing "Wild Cats" with his post.
You can watch the video and read the reactions here. Have you seen any other keeper with this level of agility in catching or reaching a football?
Share examples of players in the PSL and abroad on our Goal Twitter @goalcomsa.
Which goalkeeper would you liken this agility to? pic.twitter.com/QCbepYuiRu

— Ace Ncobo - Spot On (@AceNcobo) September 18, 2019
Wild Cats 🔥⚽️🍖🐈 🤷🏽‍♂️ pic.twitter.com/fLZmoi8z4y

— IIKHUNE3216 (@IIKHUNE_32_16) September 19, 2019
Basically its you neh😂😂

— Willard Katsande (@WillardKatsande) September 19, 2019
The best of the best pic.twitter.com/eI3E9ZLgBR

— Papahlale (@Papahlale31) September 19, 2019
Bro I salute yr talent. pic.twitter.com/KYQekeTfG6

— modisa. feature film 🎬. (@ndimachinaba1) September 19, 2019
@Lebza08Manyama @KaizerChiefs pic.twitter.com/Fq2lwjYoBd

— Siseko Tsholwana32 (@tsholwana32) September 19, 2019
Reminds me of you Itu, hope to see you back in action soon.

— Landless Native (@rakadimo24) September 19, 2019
The one and only @IIKHUNE_32_16 Mr Spot on

— Mgazilicious (@HXolani) September 18, 2019
Mzansi finest, Mzansi number one, King Khune...

— Lloyd Banks SA (@LloydBanksSA) September 18, 2019
@IIKHUNE_32_16 can do it pic.twitter.com/YFtjxt2RfD

— XOLANI NGWEKAZI (@XolaniNgwekazi_) September 20, 2019