U17 Women's World Cup
EXTRA TIME: Watch Dean Furman wish South Africa success in Under-17 World Cup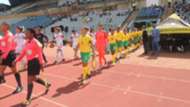 South Africa's in a tough group with Mexico, Brazil and Japan for this teen Fifa World Cup that's going to be held in Uruguay next month.
You can watch Dean Furman's message to the team, posted by Safa on Twitter below.
South Africa's National Under-17 Women's coach Simphiwe Dludlu has strengthened their preparation with the help of SA Under-20 Men's team (Amajita) coach Thabo Senong and National Under-20 Women's team (Basetsana) head coach Maud Khumalo.
"He (Senong) has already joined our camp and has added a lot of value in the few training sessions we have had so far. We, as the technical staff, are very happy to have him here because he brings with him an opinion of experience," Dludlu told Safa Media.
"We are fortunate to have great minds of both coach Khumalo and Senong in the squad," Dludlu said.
"We have a good working relationship and believe that we can reach our targets in Uruguay. I believe that Khumalo and I complement each other very well because I am her assistant at Under-20 and she is my assistant at Under-17.
"Coach Thabo has been a mentor to me," Dludlu added. "With that said, I believe we have a very strong technical team going to this year's World Cup".
Safa also added a video of the Banyana Banyana goalkeepers working hard ahead of their trip to Ghana for the Awcon.
Bafana Bafana international Dean Furman wishing South Africa's National Under-17 Women squad (Bantwana) well for the upcoming FIFA Women's Under-17 World Cup set to take place in Uruguay. #RoadToUruguay #FIFAU17womensworldcup @de4no22 pic.twitter.com/0aZr9ZXtNl

— SAFA.net (@SAFA_net) October 23, 2018
. @Banyana_Banyana goalkeepers hard at work as they prepare for the upcoming AFCON tournament in Ghana next month @BafanaBafana @SasolSA @SasolLeague #limitless pic.twitter.com/Vs7Iqgm5dW

— SAFA.net (@SAFA_net) October 22, 2018