Free State Stars
EXTRA TIME: Looking forward to the Nedbank Cup final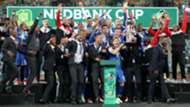 The game takes place in Cape Town this time, with the Cape Town Stadium getting a chance after many domestic finals were played in Durban.
However with two unfancied clubs participating, there's a lot of concern about attendance. The main problem is that the game takes place at the same time that football fans will be enjoying the FA Cup final between Chelsea and Manchester United. Before that all the attention was on Sundowns vs. Barcelona earlier in the week.
Despite these challenges for the game, this is a proud moment for Maritzburg United and FS Stars. Both clubs usually fight for survival in the PSL but this season United finished fourth and will begin as favourites.
You can check out some videos and social media looking forward to the big day.
CAPTAIN'S VIEW

Skipper, Bevan Fransman gives us his thoughts on our Nedbank Cup final opponents, Free State Stars. #WeAreUnited pic.twitter.com/6bK00qhzp2

— Maritzburg United FC (@MaritzburgUtd) May 15, 2018
Free State Stars preparing for the Nedbank Cup final against Maritzburg United on Saturday in Cape Town. pic.twitter.com/zQuKRDbR3e

— Njabulo Ngidi (@NJABULON) May 15, 2018
Europa League final tonight,Atletico Madrid vs Marseille,SA offers a friendly Sundowns vs Barcelona but denied AJAX to host Liverpool a season or two ago,due to Nedbank Cup Finals,same final taking place this weekend,how do you run soccer like a Mafia Organisation in SA.

— burton brown (@burtonbrown1975) May 16, 2018
Konje it's the Nedbank Cup final weekend, but our journos are busy queuing at FNB begging for accreditation for the Sundowns v Barca game.

— Oratile Abdelghani (@ora_tiwee) May 14, 2018
There is also a big preview of the Nedbank Cup final between Maritzburg United and Free State Stars, with coaches from both sides also having their say.

— Soccer Laduma (@Soccer_Laduma) May 15, 2018
KADODIA: "We have Capetonians like the coach (Davids) and the captain (Fransman) in the squad. This is an historic visit for us and we want to market ourselves to the people of the Cape". https://t.co/oM6ssqfALP @MaritzburgUtd @FreeStateStars #NedbankCupfinal

— Extra Strong (@extrastrongsa) May 14, 2018
Luc Eymael going for a win and not saving players for Nedbank Cup final. Lemme play FSS straight win

— Oratile Abdelghani (@ora_tiwee) May 12, 2018
. @Power987Sport at the @FreeStateStars Football Academy in Bethlehem for Nedbank Cup media open day pic.twitter.com/09wzY8QZPh

— PowerSport (@Power987Sport) May 15, 2018
City calls on fans to support Nedbank Cup final | @Nedbanksport | https://t.co/w9cMqm3Ac9 pic.twitter.com/qlkN7fAsxc

— M-Sports Marketing (@M_SportsSA) May 14, 2018
At Cape Town City Hall with @MaritzburgUtd as they visit the city ahead of the Nedbank Cup Final pic.twitter.com/sJ8OgoE4xn

— Rob Delport (@FMSouthAfrica) May 14, 2018
2017/18 Season!
Sundowns have the league. Bidvest Wits have the Telkom Knockout. SuperSport have the MTN. Someone between Maritzburg and Free State Stars will have the Nedbank Cup. "Big teams" have nothing.

— Football Lover  (@LUCKY_MTHOMBENI) May 13, 2018
How far are the tickets for the Nedbank Cup final on Saturday? Anyone.?

— ke Matome (@Mfanaka_Tsiki) May 15, 2018
@nealcol where is the hype for nedbank cup final. Sundowns just created this game to steal the thunder from Maritzburg and fss

— lera2 (@lera2278) May 15, 2018