Mamelodi Sundowns
EXTRA TIME: Jeremy Brockie celebrates the birth of baby boy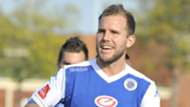 Jeremy and Jessica Brockie helped Bec and Gareth Arena make their dreams come true.
The new Mamelodi Sundowns striker has started his tenure in style with a new baby arriving in his extended family, Rixon James Arena.
Surrogate mother Jessica Brockie confirmed the new arrival of Rixon on Twitter, and explained how the Brockie's helped the Arenas.
And just like that, Rixon James Arena has arrived in this world!
What an amazing journey to be a part of. Memories that @JRBrockie and I will treasure forever 💙

Thank you Bec & Gareth for letting our family travel this road with you. #surrogacy pic.twitter.com/3jsOSO28Hf

— Jessica Brockie (@jessicabrockie) January 20, 2018
It's always a nice feeling getting a baby to full term! There's so few surprises left in this world so I absolutely love this time when you have no idea when they're coming! #38weeks #surrogacy @JRBrockie pic.twitter.com/iPIERMveFm

— Jessica Brockie (@jessicabrockie) January 11, 2018
29 weeks today!! But this journey has been a lot longer in the making. Growing baby Arena is one of the most special things I've ever gotten to do! @JRBrockie #29weeks #surrogacy #surrogate pic.twitter.com/eMkoIjPXRN

— Jessica Brockie (@jessicabrockie) November 8, 2017