PSL
EXTRA TIME: Is Zlatan Ibrahimovic Africa bound?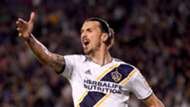 Former Kaizer Chiefs and Orlando Pirates legend Maponyane simply pointed out that Zlatan Ibrahimovic is linked with a transfer to Africa.
Then we wondered who could it be? Who can afford Ibrahimovic and who wants him?
Naturally fans of the Premier Soccer League hoped it would be a South African club. 
However, the price for Ibrahimovic would be astronomical for an African club to pay his wages, unless he took a significant pay cut for the love of the game. We can imagine there's many African clubs that would be interested in inspiring their current players to learn from Ibrahimovic and also boost the stature of their league.
Many South African fans believe Ibrahimovic may want to go to Egypt or Tunisia to have a shot at the Caf Champions League. This is probably since Sundowns failed to reach the knockout stage.
Right now we can only dream that our favourite local clubs are in the hunt. Are there any other clubs around the continent who believe they can attract a player like Ibrahimovic?
Who do you think needs Ibra, he is coming to the continent. pic.twitter.com/7Z0xfDS7Gz

— Marks Maponyane (@MarksMaponyane) September 7, 2018
Orlando Pirates for sure!!!! He is a replacement for Gabuza

— Msilawevondwe (@LuthuliChris) September 7, 2018
Pyramid from Egypt is the only one team that can afford his service

— Fransisco. (@hangwi_83791) September 7, 2018
Kaizer Chiefs, they need a striker and a co chairman to help buy quality players

— Gabriel Rini (@GpriniRini) September 8, 2018
September 7, 2018
Kaizer chiefs. If only they can afford him

— MA-VEE (@VISTOS026) September 7, 2018
Which club though? I hope it's a south African one.

— Bello's (@Tebello44) September 7, 2018
In terms of supporters I agree, but when it comes to wealth that's old news. New kids on the block baba

— 28 March 2017- L.T (@MatetePhasha) September 8, 2018