WTF
EXTRA TIME: How South Africa's Twitter celebrated Bidvest Wits PSL title win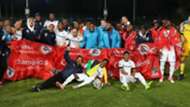 The Students went back to work on their computers and mobile phones, posting selfies, videos and patting one another on the back.
You can even watch Wits celebrate behind the scenes and relive the moment the PSL title was theirs.
We bring you Twitter reactions from the players, legends, club, media and fans.
HALALA BIDVEST WITS HALALA #AbsaPremChampions #Champions #Nakanjani pic.twitter.com/LtGC2iapTa

— Bidvest Wits (@BidvestWits) May 17, 2017
We won the league!!!!! Thanks be unto God...

— Daine Klate (@Klatey7) May 17, 2017
Champions!! pic.twitter.com/8pPC5Br12e

— Dillon Sheppard (@sheppy_stars) May 17, 2017
Thank you to the Man upstairs to my family my wife my son thank you… https://t.co/iQTUTgIZYI

— Thulani Hlatshwayo (@Thulani_Tyson03) May 17, 2017
CELEBRATIONS!
Here is the incredible moment that @BidvestWits were crowned the 2016/17 #AbsaPrem champions. pic.twitter.com/d70YRTOZTX

— SuperSport (@SuperSportTV) May 17, 2017
Enjoy our features on @BidvestWits @OfficialPSL triumph coming up on https://t.co/5iMcLNhF1z today! pic.twitter.com/CfIeKJRXr9

— Ignat Football (@IgnatFootball) May 18, 2017
A picture speaks a thousand words. Bidvest Wits 2016/17 Absa Premiership Champions  #Champions #AbsaPrem pic.twitter.com/Tf2MXf7ZHQ

— Bidvest Wits (@BidvestWits) May 18, 2017
Congratulations to Bidvest Wits on their maiden PSL title. Their hard work over the years has finally been... https://t.co/PX8fdWSxKJ

— Maritzburg United FC (@MaritzburgUtd) May 18, 2017
Congrats to @BidvestWits & my brothers @Thulani03 & @granwalds for an unbelievable season to win the league. You guys really deserve it  pic.twitter.com/vc3UdA5HJM

— Travis Graham (@travisgraham_6) May 17, 2017
Share your thoughts on @BidvestWits #PSL title triumph with us. You can read our reaction on Goal here toohttps://t.co/TQg3xY16TJ

— Ignat Football (@IgnatFootball) May 18, 2017
Six times a champion. It's time to find a new challenge in Dubai, India or China or something, blud! There's not much left for you here  pic.twitter.com/nD9O7zT4zI

— Chad Klate (@CKlatey) May 17, 2017
Congratulations @BidvestWits & coach Hunty @gavinhunt12 4 this gr8 achievement & success! you guys truly deserve the title of #PSLChampions

— Benni McCarthy (@bennimccarthy17) May 18, 2017