African All Stars
EXTRA TIME: How South Africa reacted to Salah, Ronaldo and Modric in Uefa Men's Player of the Year short list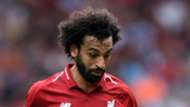 This is because South African's are staunch supporters of their own Premier League clubs and if you're supporting Liverpool's fierce rivals then it's unlikely you'd support Mohamed Salah.
Still there are some star players who are respected and loved by neutrals. You also have to consider that many neutrals can be behind Luka Modric because of the romantic achievement of taking Croatia to the Fifa World Cup final. It was equally romantic for Salah to inspire Liverpool to the Uefa Champions League final. 
Then you have to take into account the support of Cristiano Ronaldo, one of the most popular players on the planet. His following is largely thanks to his days at Manchester United, add to that his recent status at Real Madrid and now CR7 is also going to win over Serie A fans.
How about just looking at the performances without bias? Who's your bet for the world Player of the Year award?
Here's how South African soccer fans and some members of the media reacted.
The European Men's Player of the Year shortlist was revealed yesterday and Lionel Messi didn't make it

The 3 Final nominees are Luka Modric, Cristiano Ronaldo and Mohamed Salah

Who for YOU deserves the UEFA best player accolade?

VoiceNote #FreshBreakfast on 081 577 3333 pic.twitter.com/El5rbYt6hr

— Mpho Letsholonyane (@M_Letsholonyane) August 21, 2018
Luka Modric for me. He deserves it.

— 7thDayTheory (@Maera_213) August 21, 2018
Marriage and husbands aside! I would really like to see Luka take this one! He is brilliant and during the World Cup tournament, he really stood us and showed us what he really is capable of! I am rooting for him !

— #FreshBreakfast (StreetTeam) (@dineo_mpala) August 21, 2018
The European Men's Player of the Year shortlist was revealed yesterday and Lionel Messi didn't make it

The 3 Final nominees are Luka Modric, Cristiano Ronaldo and Mohamed Salah

Who for YOU deserves the UEFA best player accolade?

VoiceNote #FreshBreakfast on 081 577 3333 pic.twitter.com/7gLrLBaTW5

— METROFM SABC (@METROFMSA) August 21, 2018
Let's bring it to African soil. Salah

— Lethabo (@OnalennaPro) August 21, 2018
Salah

— Kwanele_Majiyezi  (@Kwanele80963786) August 21, 2018
Since there's no Les Bleus French player in Fifa's 3-man short list for the annual Player of the Year award (rightly so), I believe it's clear Mohamed Salah and Cristiano Ronaldo deserve it more than Luka Modric. Modrić already got his World Cup individual award - the Golden Ball

— Ignat Football (@IgnatFootball) August 20, 2018
Mo salah no other way

— zwothe Firmino SA (@zwothemaroge) August 21, 2018
Fifa world best:

Ronaldo, Modric, Salah made the final list. Messi dropped for the 1st term in 12 years.

— Ibrahim Ijaola (@ijaola_ibrahim) August 21, 2018
If they fair and don't look down on African players then M salah should be the winner...

— Pleasure Mongalo (@780105) August 21, 2018
Luka Modric deserve it, but CR7 will take it. CR7 is a favorite according to success

— Charles Gumede (@Charles12143366) August 21, 2018
CR7

— Msydana M@x (@MsydanaEnkosi) August 21, 2018
Messi is probably underrated, isn't he? His greatness is normalised to the extent where being the top scorer in Europe and winning two trophies isn't seen as extraordinary as Salah having a standout season or Modric taking a dark horse to a final.

— James Harris (@JamesCHarris97) August 20, 2018