WTF
EXTRA TIME: Club Africain confident after scoring away at SuperSport United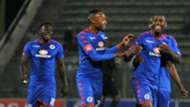 However Club Africain spoilt the home party with an away goal that could prove crucial in the long run.
At least a late Thabo Mnyamane goal helped the South Africans avoid defeat on the day.
Now SuperSport United have it all to do away from home in Tunisia, and local followers are holding their breath for the daunting atmosphere that awaits them on October 20.
Here's a collection of Tweets from Club Africain, United and followers of the semi-final.
See you in 3 weeks, @SuperSportFC.

#CASSU #CAFCC pic.twitter.com/Q8RcFq1coh

— Club Africain EN (@ClubAfricainEN) October 1, 2017
.@SuperSportFC ready for action #CAFCC pic.twitter.com/epy47RLwyr

— SuperSport United FC (@SuperSportFC) October 1, 2017
FT Score: @SuperSportFC 1 (Mnyamane) - 1 @ClubAfricainEN #CAFCC

— SuperSport United FC (@SuperSportFC) October 1, 2017
.@SuperSportFC defender Keegan Ritchie on radio 702 #SkeemaMatsatsatsa pic.twitter.com/1GbHBge7Vs

— SuperSport United FC (@SuperSportFC) October 1, 2017
Wear your Blue T-shirt and gain free entrance to the Lucas Moripe Stadium. Gates have OPENED, Kick-off 15H00 #FillUpLucasMoripeStadium pic.twitter.com/WduE7xZuZe

— SuperSport United FC (@SuperSportFC) October 1, 2017
#FillupLucasMoripeStadium for sunday Caf Confederation Cup semi-final between Supersport United vs Club Africain pic.twitter.com/mBw2e6XEit

— Jabu Mahlangu (@JabuMahlangu12) September 29, 2017
Lucas Moripe Stadium
CAF Confed Cup 1st leg semi
SuperSport 🇿🇦 v Club Africain 🇹🇳 pic.twitter.com/py8yYeeUre

— Mazola J. Molefe (@superjourno) October 1, 2017
#Mood!!! - Wear your Blue T-Shirt and get in for FREE #FillUpLucasMoripeStadium pic.twitter.com/IHXUkMqjUP

— SuperSport United FC (@SuperSportFC) September 30, 2017
#CAFCC #SSUCA
FULL TIME#SuperSportFC 1-1 #ClubAfricain
Saber Khlifa SP@SuperSportFC see you at Rades Stadium  #TeamCA  pic.twitter.com/5CTbjd0cG2

— #TeamCA Officiel (@TeamCA_Officiel) October 1, 2017
@CAF_Online confederation cup semi final 1st leg loading... @SuperSportFC vs @clubafricain #FillUpLucasMoripeStadium pic.twitter.com/TuF0bc5izq

— Jeremy Brockie (@JRBrockie) October 1, 2017
What @SuperSportFC can expect in the 2nd leg @CAF_Online Confederations Cup @clubafricain @ClubAfricainEN #FillUpLucasMoripeStadium  pic.twitter.com/zZiHAWCUNh

— #NotInMyName (@MatthewBoothZA) October 1, 2017