Kaizer Chiefs
EXTRA TIME: Billiat and Khune must start - Kaizer Chiefs fans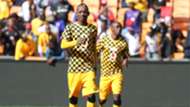 Kaizer Chiefs' next match in the Premier Soccer League (PSL) is away to AmaZulu in Durban next week Tuesday.
On the weekend, Amakhosi lost 1-0 to Polokwane City and many fans were upset Khama Billiat and Itumeleng Khune didn't start.
We take a look at the big controversy regarding the treatment of Billiat, who kept Zimbabwe's Fifa World Cup qualification hopes alive last week.
When returning to his club in South Africa, coach Ernst Middendorp was not happy the Zimbabwean participated in the international fixture against Somalia.
Billiat went on to score the deciding goal for Zimbabwe in the second leg qualifier last week, but only came on in the second half for Chiefs in their losing cause against City.
We take a look at some Amakhosi fans' feelings on Billiat's treatments from social media this weekend. We also include video interviews of the supporters, recorded by Amakhosi 4 Live and posted on Twitter.
Then there are Chiefs fans who believe Khune should be starting games due to how much he influences their play with his ball distribution and inspirational qualities.
Middendorp and his technical team have taken the decision not to start both players based on their fitness, but the fans believe it is worth a risk to start them.
With a week to go to the match in Durban, there is time for both Billiat and Khune to improve their fitness and start against Usuthu.
A fit Billiat and a fit Khune should be starting each and every Chiefs game. A real coach would know this.

— Ntswentswe (@Mkhu28) September 15, 2019
I said before that the way Middendorp sets up players around Nurkovic, especially Kambole, we are not going to get much out of them. Kambole and Billiat are expected to drop deep into their own half when Chiefs is not in possession. Who is left upfront when we win possession?

— Ntswentswe (@Mkhu28) September 15, 2019
Do we need to make Khama Billiat feel more at home at Kaizer Chiefs, in order for him to bring the same performances that he does for Zimbabwe? #AbsaPrem #A4Ltv pic.twitter.com/qpeNA9e7L9

— Amakhosi 4 LIVE (@amakhosi4live) September 15, 2019
The talk about the controversy between Middendorp and Billiat has not died down yet, especially after he was used as a sub for Kaizer Chiefs yesterday against Polokwane City. #A4Ltv #AbsaPrem pic.twitter.com/vu6PXRn11S

— Amakhosi 4 LIVE (@amakhosi4live) September 15, 2019
WATCH UNTIL THE END! The kids thought last night that Frosler and Billiat were the standout performers for Kaizer Chiefs against Polokwane City #AbsaPrem #A4Ltv pic.twitter.com/pRldT7ksQC

— Amakhosi 4 LIVE (@amakhosi4live) September 15, 2019
Motaung: Middendorp is not in trouble

Kaizer Chiefs' football manager Bobby Motaung says it was unnecessary for coach Ernst Middendorp to bemoan the fact that star midfielder Khama Billiat played for Zimbabwe this… https://t.co/or5LkuJYWd

— Kaizer Chiefs Atteridgeville Branch (@AttvilleKCFans) September 15, 2019
Why billiat as a sub we have to start the game with billiat https://t.co/yk2er4QpvI

— ÃMØH💕 (@MH75770772) September 15, 2019
Coach cost us an arm, we only played 45min. how do you play Billiat in the second half. #Amakhosi4Life pic.twitter.com/2s87AnU489

— Samuel (@Samuel42116584) September 14, 2019
I don't know about yall...

But I'd really love to see Itumeleng Khune start for Kaizer Chiefs against Polokwane City 👌🏾

Really miss the leadership he brought at the back#AbsaPrem #AbsaPremiership #SSDiski #KickOff #PSL #Amakhosi4Life #KaizerChiefs #BackToBrilliance pic.twitter.com/IgXESsjnpG

— Shakes Rampedi (@ShakesRampedi) September 14, 2019
I personally still feel Khune should start.. After what Akpeyi did last season VS polokwane city.🚮🚮

— Khosiliser™✌ (@Angel88991381) September 14, 2019
Khune is very influential when we are start our attack and I bet you he doesn't seems not to bother .Fuck he can't coach my team fukses.

— Matome (@Mfanaka_Tsiki) September 15, 2019
Kaizer Chiefs have played well however the team still lack the team work specially in the front...the aminosity between Billiat & Parker is costing the team coz they don't pass each other rather waiste the ball or take a poor shot. Khune must start now...

— Oskido3004 (@oskido3004) September 14, 2019
Parker needs to start eating bench...Khune regain his captaincy and George Maluleka his vice...we will go places

— Beetle's (@MO_kAtz7) September 14, 2019
Well Enerst costed us this game how does Parker play 90min whilst he is not in the game...why put Billiat on the bench and start with Kambole whilst you see he has been struggling...why is Khune still seating on the bench whilst he is the best with organising his defence

— Mbongeni Nkosi (@MaThebZa7) September 14, 2019