South Africa v Nigeria
EXTRA TIME: Bafana fans turn attention to Super Eagles and Paraguay clashes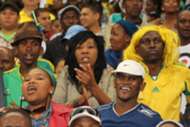 Bafana Bafana take on the Super Eagles in an Africa Cup of Nations qualifier on Saturday. The home team will need to avoid defeat to keep their qualification hopes alive.
After that SA has another high profile encounter, this time against Paraguay in the Nelson Mandela Challenge on Tuesday.
For Bafana fans who complained about the opposition against Seychelles, here's two big matches to get the local football fraternity excited.
Here's how South Africa's turning their focus to international football on Twitter.
Come one, come all this Saturday, 17 November2018 at support Bafana Bafana when they take on the Super Eagles of Nigeriain a crucial 2019 AFCON qualifier #FORBAFANABAFANAComeShowYourLove @mamajoychauke @OfficialSMSA @SAFA_net pic.twitter.com/SoTTwi60GT

— Bafana Bafana (@BafanaBafana) November 12, 2018
Ronwen Williams not training with Khune and Keet today as he nurses a minor injury... Baxter expects him back tomorrow, there will be no replacement call-up for #Bafana .   pic.twitter.com/vRHAVEFITr

— Joe Crann (@YesWeCrann) November 12, 2018


We have a massive #AfconQ2019 clash on our hands as Bafana Bafana play host to Nigeria on Saturday. With both teams after top spot in Group E, you won't want to miss this epic battle!   pic.twitter.com/jR3R3uOKyN

— SuperSport (@SuperSportTV) November 12, 2018
Xola Mlambo must play for Bafana.

What a joke   pic.twitter.com/RgbFBB6iKR

— MoAfrika and other 57fans (@BlackisGoldz) November 11, 2018
#FORBAFANABAFANAComeShowYourLove on 17 November 2018 when they face the Super Eagles of Nigeria at FNB Stadium at 15h00 @SAFA_net pic.twitter.com/iv0qaHgol1

— Bafana Bafana (@BafanaBafana) November 9, 2018
Have just had it confirmed that Serero is expected to jet out soon and his injury, ankle, will be checked out by Bafana's medical team.

— Sandile Ndumo (@Doc_Ndumo) November 12, 2018
Bafana to face Paraguay on November 20 in the Nelson Mandela Challenge.

— Mazola J. Molefe (@superjourno) November 12, 2018
Announcement of the Mandela Challenge. Bafana v Paraguay on Tuesday 20th November at Moses Mabhida Stadium pic.twitter.com/4lATdnS0x1

— Robin Petersen (@CEOSafaDevelop) November 12, 2018
The last time Bafana Bafana played Paraguay was back in 2008. South Africa outclassed Paraguay 3-0 in Pretoria. After that game, SA coach, Carlos Alberto Parreira, resigned because his wife was "ill and lonely."

Anyone hoping for history to repeat itself? pic.twitter.com/GHe3NEtZfx

— Banele Pikwa (@BanzaRP) November 12, 2018
i remember being young kid and waiting to watch Bafana vs Paraguay on Etv in the 02 world cup,good old days

— Kabza (@kabzerla) November 8, 2018