World Cup
'Even bronze not coming home' - Ghana reacts to England's losing end to World Cup campaign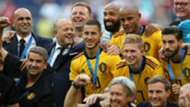 In the end, the World Cup did not "come home", neither did silver or bronze. 
On Saturday, England ended their campaign in Russia with a defeat to a superior Belgian side in the third place playoff at Saint Petersburg. 
Thomas Meunier and captain Eden Hazard were the heroes of the day as their goals in either half secured a 2-0 victory at Krestovsky Stadium to deny The Three Lions a medal. 
Ghanaians were among the many followers of the game, a classic curtain raiser to Sunday's finale between 1998 champions France and 1998 bronze medalists Croatia. 
Below are some social media reactions on the match:
World Cup shd just be a first n second place win. Third place matches are always a sore sight #BELENG

— Nikki Samonas (@Nikkisamonas) July 14, 2018
The only decent teams England met, they lost all. Belgium, Croatia, Belgium. They are lucky they went through this route.

You don't beat Tunisia, Panama and Sweden and expect it to come "home"

#WorldCup

— Muftawu Nabila (@Muftawu_Nabila) July 14, 2018
Harry Kane will surely go down as the worst player to win a World Cup golden boot

— Kwame Idan Raul (@Kwameidan) July 14, 2018
Poor England! What a week it has been!
Football refuses to return "home" to the island, preferring to stay on the continent instead.
In its place appeared Hurricane Trump, who dissed their Premier and disrespected the Queen!
Almost makes one feel sorry for them! - Ginero.

— Kwame Gyan (@KwameGyan) July 14, 2018
I'm happy for Belgium. They deserved it more than England. #WorldCup
— Atsrim Sitso Philip (@OfficialSitso) July 14, 2018
World Cup shd just be a first n second place win. Third place matches are always a sore sight #BELENG

— Nikki Samonas (@Nikkisamonas) July 14, 2018
Well done Belgium!! 😍😍😍😍😍😍 #WorldCup now I just need Croatia to lift the cup. 👌🏽👌🏽

— Jessica OS (@jessicacitifm) July 14, 2018