Eugeneson Lyngdoh
Eugeneson Lyngdoh unveils trophy as Tango League is launched in India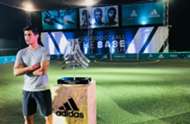 Adidas on Saturday launched the Tango League in India for the first time with Eugeneson Lyngdoh unveiling the trophy in New Delhi.
The Tango League gives players with skills an opportunity to showcase their talents. A footballing experience at the next level, the league provides an opportunity to 'creators' across the globe to unite. The 5-a-side league will run for two days with matches going on late into the night at the Adidas Football Base in New Delhi. At the launch on Saturday, the reponse was positive with hundreds of footballers turning up for the maiden edition.
The atmosphhere at the venue was electric as teams battled it out for a chance to be crowned as the best creators.
As the Tango League grows in India, it will provide the chance to the most valuable creator to represent the country among a select pool of creators from around the world. 
Speaking at the unveiling of the trophy in New Delhi, India National Team and ATK midfielder Eugeneson Lyngdoh was all praise for the concept of Tango League.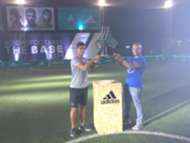 "This is an excellent initiative taken once again by Adidas to bring in the Tango League to India. It is an extremely popular concept across the leading football playing nations and is an ideal platform for young footballers to showcase their skills and get recognized. I am excitedly looking forward to some great football, and would want to shout out to all passionate young footballers in India to explore this opportunity and participate in the Adidas Tango League," Lyngdoh said.
"Football is growing in India and these are exciting times for Adidas as Football is in the DNA of the brand. With the FIFA U-17 World Cup last year, the upcoming FIFA World Cup in Russia and the Tango League, the brand plans to be in the hearts and minds of the football creators. Tango League will be the authentic platform from Adidas, as we will continue to sponsor other footballing properties under the Adidas Creators platform,"  Brand Marketing Director for India, Amrith Gopinath said on his part.
The day started off with a freestyle football challenge before the Tango League Champions Trophy was unveiled by Lyngdoh.
The first installment of the league kicked off late on Saturday evening and will continue until Sunday.