NPFL
Etor commends well behaved Enugu Rangers fans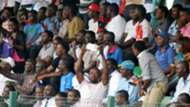 Enugu Rangers' Daniel Etor has commended their fans for remaining very calm and orderly throughout their league tie with Gombe United at the Nnamdi Azikiwe Stadium as they shunned the call for reprisal attacks on the Desert Scorpions for the incident in Pantami Stadium two weeks ago.
Etor stated that they appealed to their fans and supporters to comport themselves and show the hospitality of Enugu people to Gombe United in spite of what happened to them in Gombe and he was relieved that they listened to them and allowed the game to flow throughout its duration.
"It was not an easy task calming the fans down because they actually wanted to avenge what happened to some of us in Gombe but we were able to appeal to them to sheathe their swords knowing that a reprisal attack will have dire consequences on us in terms of fine and point deductions," Etor told Goal.
"It was even more difficult to speak to the fans judging by the fact that Gombe United scored first before the 15th minute and were almost going into the halftime with the 1-0 lead before we managed to get the equalizer through Godwin (Aguda). We waited patiently and we were rewarded with the second goal in the dying moments of the match."
The home win ensured that the Flying Antelopes moved to 14th on the league table with 26 points from 20 games ahead of their weekend tie with Abia Warriors in Umuahia.