Michael Essien
Essien 'ready' to call on Mourinho for coaching tips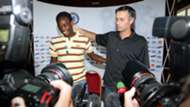 Chelsea legend Michael Essien says he will consult former boss Jose Mourinho for advice when he makes up his mind to become a coach after retirement from active football. 
The 35-year-old has been without a club since last season after mutually parting ways with Indonesian side Persib Bandung. He currently holds Uefa B coaching license.
"I'm still thinking about it to be honest. I've been following some of the coaches, trying to get a little bit more experience, because coaching is very different from being a player," Essien told The Independent.
"I'm trying to see that side of it, and taking in everything. And when I decide to hang up my shoes, hopefully I know what I'm going to do.
"If I want to go into coaching, Jose would be the first person I would pick up the phone and call and get some advice. I played with some top managers, so I can pick up the phone and call any of them and I'm sure they would help me out. They would give me some guidance and I'd take it from there," he added.
Essien, however, insists he still has the strength to play club football until 2020 and has been spotted training at Chelsea's Cobham facility for fitness.
"I want to keep playing. I mean I think I still have a year or two in me, but I'm not rushing into anything. If something comes up and it's interesting I might consider it. I think that's what I'm trying to do really, and we'll see what happens.
"I just want to enjoy the few years ahead of me playing football. It's something I love, it doesn't really matter [where]. I've played at the highest level, so I'm just looking forward to enjoying football, so anywhere there is interest, then yeah. I will consider it," he added.
Apart from Chelsea, Essien also worked under Mourinho at Real Madrid while on loan from the Premier League side.