NPFL
Enyimba's Mfon Udoh thankful for football return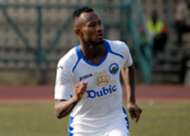 Mfon Udoh says he is more than grateful to God and the medical team of his club for his return to football after close to one year out.
Udoh is in the People's Elephant squad for the Wednesday rearranged league tie with Akwa United in Uyo and the attacker stressed that he was extremely delighted to be fully fit again after some people thought that it would be difficult for him to stage a comeback to the round leather game.
He said he leaves the decision to either play or not to against the Promise Keepers to the technical crew but that he is just glad to be back among his teammates playing again and that he knows that very soon he will regain his sharpness again.
"I am just glad and happy to be back playing. It has been long I had the feeling I am having now and I am grateful to God and all those that made this possible," Udoh told Goal.
"I want to appreciate Enyimba medical team and others that worked tirelessly to ensure that I am back on my feet. I am in Uyo to enjoin myself and celebrate my return but if the technical crew feels I am worthy enough to play I will be glad to do so.
"I am sad that I have not been able to help my team since the beginning of the season but I am fully focused to make use of the opportunity presented me now to ensure that Enyimba finish the season strongly."
The former Akwa United striker downplayed the importance of his return for the league tie against his ex-club and he affirmed that the People's Elephant are in Uyo to secure their first away win of the season.
"It is just a league fixture like others and I don't want to read any unnecessary meaning to it," Udoh continued.
"We are in Uyo to get our first win of the season and try to end the season impressively. It has been hard staying out not being involved in the games we have played in the domestic league and in Africa but I want to make good use of the chance I have now to help my team."