World Cup
England 'outdid' themselves and fans should be proud of top-four feat - Henry Abiodun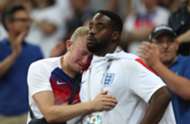 Despite a 2018 World Cup final miss,
England
and their fans can be proud of their feat in
Russia
, according to
Sunshine Stars
coach Henry Abiodun.
The young Three Lions squad fell short of reaching the showpiece of the tournament, thus, dashing hopes of laying their hands on the most coveted trophy in football for the second time.
But having surpassed pre-tournament expectations, Abiodun believes Gareth Southgate's setup and team supporters can take pride in their feat as one of the best four teams in the world.
"I agree that they've outdone themselves," Abiodun told Goal.
"32 teams started the tournament and they are going to be among the top four. The English fans will be proud of them, despite them wanting the trophy to come home.
"Weeks ago, no one gave them the chance and there were no talks of 'coming home, coming home'. They worked their way there. They made everyone believe. And this is football with Germany, Brazil and Argentina all out.
"Every member of the English squad should have their heads held high because they've broken a lot of records; I mean records of decades of the English national team."
England's loss to Croatia mean they set up a repeat of their group's last game against Belgium; an encounter lost to Adnan Januzaj's brilliant strike.
On Saturday, the Three Lions will hope to avenge for the defeat in the third-place match at the Saint Petersburg Stadium.