NPFL
Emmanuel Deutsch happy with determined Abia Warriors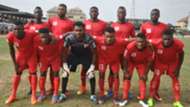 Abia Warriors head coach, Emmanuel Deutsch is delighted with the determined zeal of his players who braved the odds to pull a draw against Rivers United in Port Harcourt.
The initial leg had ended 2-1 in the Warriors' advantage a week earlier with the Pride of Rivers boasting that they would avenge the defeat in the reverse fixture but Abia Warriors kept them at bay to record a goalless draw.
"It was a commendable performance from the players because we heard so much before the game like how Rivers United will beat us hands down," Deutsch told Goal.
"I told my players not to listen to hearsays and concentrate on the game. They heeded my warning and they played the game with their entire life and they were determined to resist all overtures that could lead to distractions.
"We need this type of performance in all our away games for us to truly be regarded as a serious team. We cannot remain in the middle of the table and think that we are going to be taking seriously."
Abia Warriors are 11th in the league table with 26 points from 20 games.