African All Stars
'Emmanuel Boateng for Ballon d'Or' – Levante youngster sends Twitter into meltdown after Barcelona hat-trick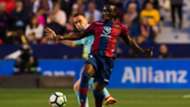 Emmanuel Boateng powered in three goals as Levante ended Barcelona's unbeaten LaLiga run at the Estadio Ciudad de Valencia.
The treble was the Ghanaian's first in his career and it came at the right time to punish the Blaugrana who were hoping to end the season unbeaten.
With this feat, Boateng becomes the first player to score a hat-trick against Barcelona in the Spanish top flight since Diego Forlan in May 2015.
Lifted by the youngster's performance, football fans took to Twitter to shower encomium on the relatively unknown striker.
Emmanuel Boateng for ballon d'or

— ⓑⓚ (@buikem) May 13, 2018
Emmanuel Boateng is eating Barcelona

— Boobks (@GloryBoi_Nzy) May 13, 2018
Emmanuel Boateng 🇬🇭👏🏻

— HOT M£SS (@NazTwitch) May 13, 2018
Emmanuel Boateng for president 🙌🏽😂😂😂

— SH7 💥 (@el_Henry7) May 13, 2018
3 - Emmanuel Boateng is the first player to score a hat-trick against Barcelona in La Liga since Diego Forlan in May 2005. Bomb. pic.twitter.com/cs5QnzCQmS

— OptaJose (@OptaJose) May 13, 2018
Best players in the world right now
1.Emmanuel Boateng
2. Injured Emmanuel Boateng
3. Salah

Don't @ me

— Shün Álexander (@lee_young_jae) May 13, 2018
Emmanuel Boateng is on fire

— Shawn 🌐 (@nwahSfaR) May 13, 2018
Emmanuel Boateng's third goal for Levante against Barcelona just made him a national treasure 🇬🇭👏🏽👏🏽👏🏽

— Teejay🌋 (@willteejay) May 13, 2018
Hat trick against Barcelona!!

All hail EMMANUEL BOATENG!!

👏🏽👏🏽👏🏽👏🏽 pic.twitter.com/f7pmdJDUBx

— Fredrick Gyan-Mante (@Freddie_GH) May 13, 2018
Not all heros wear capes
Emmanuel Boateng 🔥🔥

— Shün Álexander (@lee_young_jae) May 13, 2018
Emmanuel Boateng >> Messi

— Griffith (@gwuah_) May 13, 2018
WOW Emmanuel Boateng scored the hattrick for Levante! Guy was causing trouble at Moreirense in Portugal last season! Great jump in his career!

— Hugo Santos (@Hugo_Santos123) May 13, 2018