Paul Pogba
'Eid Mubarak everyone!' - Pogba, Ozil & Ribery celebrate Islamic feast day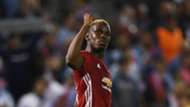 Arsenal's Mesut Ozil and Manchester United midfielder Paul Pogba were among the footballers to wish their followers Eid Mubarak on Sunday as they marked Eid al-Fitr.
The blessing is exchanged between Muslims at the end of Ramadan, when followers of the faith are no longer required to fast, and plenty of household names are partaking in the festivities.
Pogba gives wise advice to Mbappe
Pogba wished for all Muslims to "have a great time with your families and may Allah accept our prayers", while Ozil said: "Wishing you and your loved ones a blessed Eid!"
The Gunners midfielder's compatriots Shkodran Mustafi and Ilkay Gundogan were also in cheerful spirits, with the latter urging his followers to enjoy their feast. 
A host of clubs also shared good wishes, with Manchester United, Manchester City and Liverpool sending messages to their Muslim supporters.
#EidMubarak to everyone celebrating! pic.twitter.com/dwOAFZVnDk

— Arsenal FC (@Arsenal) June 25, 2017
Wishing you and your loved ones a blessed Eid! #EidMubarak pic.twitter.com/hmAvjFvCJB

— Mesut Özil (@MesutOzil1088) June 25, 2017
Gëzuar festën e Fitër Bajramit! Eid Mubarak to all our muslim brothers and sisters! pic.twitter.com/W7P40VIHVU

— Shkodran Mustafi (@MustafiOfficial) June 25, 2017
Eid Mubarak to all our supporters celebrating Eid Al-Fitr today! #EidMubarak #mcfc pic.twitter.com/ZxXdfW08l1

— Manchester City (@ManCity) June 25, 2017
Enjoy your Ramazan Bayramı #eidmubarak #ramadan #celebration pic.twitter.com/CwUr7MzSYw

— Ilkay Gündogan (@IlkayGuendogan) June 25, 2017
Eid Mubarak everyone! #EidMubarak pic.twitter.com/7j4jc7ALPA

— Yaya Touré (@YayaToure) June 25, 2017
Happy Eid Mubarak to all my muslim friends! Bonne Fête de l'Aϊd à tous mes frères et soeurs musulmans! pic.twitter.com/vKswopgzws

— Franck Ribéry (@FranckRibery) June 25, 2017
#EidMubarak to all of our Muslim fans celebrating around the world. Enjoy the day! pic.twitter.com/vR4kw0YgUB

— Manchester United (@ManUtd) June 25, 2017
Liverpool Football Club would like to say 'Eid Mubarak' to all our Muslim supporters celebrating Eid Al-Fitr today

— Liverpool FC (@LFC) June 25, 2017