WC Qualification Africa
Egypt reward each player with $85 000 for WC qualification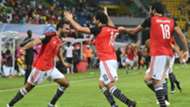 Egypt's President Abdul Fattah al-Sisi has announced he is going to reward the Pharaoh's players and technical for their historic World Cup qualification on Sunday night.
President Fattah announced on Monday that he was going to reward each player with $85 000 for edging Congo 2-1 to qualify for the global spectacle for the first time in 28-years.
Mohamed Salah was the hero as he netted twice, including a stoppage time penalty to secure the qualification and Fattah singled him out for praise.
"I'm proud of all the players but especially of Mo Salah who was brave enough to take the crucial penalty," the president said.
 "Also, I thank you coach Cuper [Hector] for making our dreams come true," Fattah concluded.