East Bengal
East Bengal officials visit Mohun Bagan to pacify fans before derby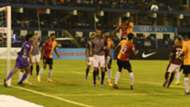 East Bengal's senior officials visited Mohun Bagan club on Wednesday to have a meeting on the issue of an unrest which happened outside the gates of Mohun Bagan on Tuesday.
A set of East Bengal fans had vandalized Mohun Bagan club gate after the Red and Golds' match in the Calcutta Football League (CFL). A video went viral which clearly showed East Bengal fans throwing stones targeting the Mohun Bagan club tent.
With the tension between the clubs at a crescendo, the officials met to pacify both sets of fans ahead of the Kolkata Derby and conveyed their message of peace to the fans via media.
Addressing the press, Mohun Bagan official Debashish Dutta said, "We discussed yesterday's issue and agreed that these things are unwanted. We share a fierce rivalry, but that is limited to the 90 minutes of the game. We request both sets of fans not to repeat such acts."
East Bengal's Debabrata Sarkar echoed the Bagan official's thoughts. He said, "We request both sets of fans to avoid such incidents. Keeping in mind the upcoming Kolkata Derby these things should be sorted. It is not possible for us to take any action against the fans as they cannot be identified."
Another video has since emerged of some unidentified Mohun Bagan fans attacking their rivals with bamboos, changing the narrative of an attack which looked unprovoked going by initial reactions.
While the East Bengal officials condemned the behaviour of their fans, they also pointed out the incident which most Red and Golds supporters are believing to be the trigger for Tuesday's unpleasantries. 
The Kolkata rivals lock horns in the season's first derby match on September 24th at Siliguri. It will be title decider of the CFL as both the sides are tied on points after 8 matches.