East Bengal
East Bengal in hot water after sponsors further reduce budget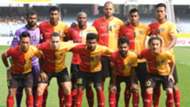 Indian football giants East Bengal are in deep trouble after their chief sponsors United Breweries (UB) Group decided to reduce the sponsorship money from 3.5 crores INR to 1.5 crores INR.
East Bengal officials met the representatives of UB group on Tuesday in order to discuss the team budget for the upcoming 2018/19 season. Sources close to Goal confirm that the officials had asked for the sponsorship amount to be increased by a further 2.5 crores INR. 
Surprisingly, the UB representatives told the club that they would instead slash the amount to a mere 1.5 crores INR.
The Red and Golds' team budget was reduced considerably last season. 
UB group's decision to slash the team budget comes as a great shock for the club who were planning to build a competitive squad this season.
As an alternative now, the club may consult other business houses for sponsorship and try to work their way around this sticky situation.