Gianluigi Donnarumma
Donnarumma denies leaving agent Raiola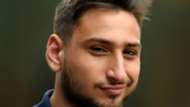 AC Milan goalkeeper Gianluigi Donnarumma has denied reports that he has split with agent Mino Raiola.
The teenager has been in the eye of a storm lately due to his refusal to sign a new contract with the Serie A side, with his current deal due to expire in 2018.
Italy fans during the UEFA Under-21 tournament have thrown fake banknotes at him while Rossoneri supporters have made clear their displeasure with the player's attitude.
Following Saturday's U21 encounter against Germany, which Italy won 1-0, Donnarumma quickly made his way to the changing rooms, denying children who requested autographs from him and thereby tarnishing his image further.
#Donnarumma #Raiola
Ieri , Oggi e Domani !!

— Gianluigi Donnarumma (@gigiodonna1) June 25, 2017
The suggestion he might have separated from his representative, however, has been strongly denied by the shot-stopper, who took to Twitter to deny the claims.
"#Donnarumma #Raiola Yesterday, today and tomorrow," he said.
His reaction follows press speculation in Italy that the player's family was not happy with the current impasse, blaming much of that on Raiola, and that Donnarumma was eager to tie himself to a new contract, which could potentially cause a split with his agent.
Milan CEO Marco Fassone gave the latest updates on extension talks on Friday, indicating that the club are still waiting to hear from the player and eager to receive an update before pre-season begins on July 3.