Manchester United
Do Mourinho's Man Utd moan and whinge? Mata suggests not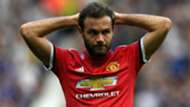 Juan Mata insists there is no moaning coming out of Manchester United despite the club slipping off the Premier League title pace.
The Red Devils burst out of the blocks in 2017-18 to spark talk of a challenge for the top-flight crown, but have since stumbled to see arch-rivals Manchester City surge 11 points clear at the summit.
There is still time in which to bridge that gap, but Pep Guardiola's team have offered the chasing pack little encouragement so far.
United have been able to keep themselves in contention by responding to a costly derby defeat with victories over Bournemouth and West Brom, and Mata insists that Jose Mourinho's side will continue to look forward with optimism rather than dwell on events of the past.
The Spain international wrote in his personal blog: "The two wins that we got this week show that the team has the ability and the character to keep walking its path, moving forward instead of moaning when things don't go the way we wanted.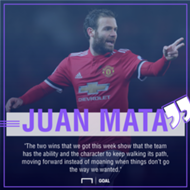 "Firstly we got the three points in a really tough game at Bournemouth. They made it hard for us but that's no news in the Premier League, where you know that you will have to go through some difficulties in every single game.
"The key is to get over them and to create your chances to win, chances that you eventually have to take, of course. That's what we did and it gave us a lot of confidence to face the second match of the week against West Bromwich Albion.
"It was another complex and tough game, and we couldn't close it until the final whistle despite taking the lead in the first half with two nice goals from Romelu [Lukaku] and Jesse [Lingard].
"It may sound like a cliché but, in a month with nine fixtures to play, your goal is to stay absolutely focused on the next game, in order to win it with the utmost professionalism and effectiveness.
"For sure, you should always try to enjoy every game, but the most important thing in this crucial month is to be physically and mentally ready for the marathon of fixtures."
United still have four games to come in 2017, starting with a Carabao Cup quarter-final clash with Bristol City on Wednesday.
Mourinho's men will then round off the calendar year with Premier League fixtures against Leicester City, Burnley and Southampton.