Simba
Djuma: Players have started to apply Lechantre's techniques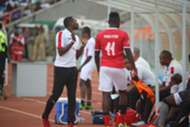 Simba Assistant Coach Masoud Djuma has hailed the good performance of his side in the premier league match versus Majimaji and put it down to new coach's Pierre Lechantre's techniques.
Speaking to Goal Djuma whose Simba side beat Majimaji 4-0 at National Stadium Dar es Salaam on Sunday said that all Simba players and the technical bench are happy with the Frenchman who started his tenure last Wednesday.
"All of us appreciate the job he is doing and today us winning 4-0 shows Lechantre is a good coach and his philosophy has started to be to be understood and applied by the team" said Djuma.
The Burundian Coach said that under Lechantre Simba will win all matches till end of the season and win the premium league trophy.