UEFA U21 Championship
Deulofeu needs attitude adjustment to succeed at Barca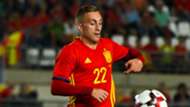 ---
COMMENT
---
It should have been his happiest day. Gerard Deulofeu sealed a return to Barcelona on Friday as the Catalan club announced they had exercised their buy-back clause and, hours later, the winger seemed set to lift the European Championship trophy in his very last match for Spain's Under-21 side.
But things did not work out as planned. Spain were unable to repeat the fantastic form they had shown throughout this tournament and Deulofeu was desperately disappointing against a well-drilled Germany team that won this match and also the title through sheer efficiency.
Gone was the space afforded to Spain's stars in previous matches, with Marco Asensio and Saul unable to exert their influence, yet there was the feeling from early on in the game that Deulofeu was slowing down his team's attack.
There were whispers in the Spain camp that the captain was carrying a knock, but he started the match. However, not once did he look comfortable running with the ball at his feet, lacking his usual explosive pace and cutting back more often than not. He was also found wanting when it came to defensive duties and looked likely to be substituted - especially when Germany took a surprise lead.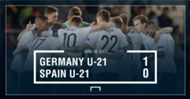 But Deulofeu stayed on, even when his poor play continued in the second half. Aside from lacking his habitual sharpness and zest, he was also guilty of going it alone and playing as too much of an individualist.
Germany beat Spain to win U-21 title
That is nothing new. Deulofeu was spoken of in such high terms when he was emerging as a talented teenager at La Masia and even made his debut for Barca as a teenager under Pep Guardiola in 2012. Yet he has frustrated many coaches since, including Unai Emery at Sevilla and also Luis Enrique, who twice discarded him at Barca.
Much more had been expected. After Xavi, Andres Iniesta, Lionel Messi et al, Deulofeu was destined to be the next star. He was the first La Masia graduate born after Barca's 1992 European Cup win to debut with the Catalan club - and everyone was sure he would be something special.
He still could be. But back at Barcelona, he will need an attitude adjustment to be successful. The Catalan club has enjoyed its finest era in recent years thanks to the brilliance of the collective and all players have to fit into that team ethic - even Lionel Messi, Neymar and Luis Suarez.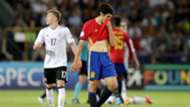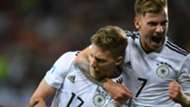 So it is time for Deulofeu to develop that side of his game and under Ernesto Valverde he will have the opportunity to work with an excellent coach who is renowned for getting the best out of his players in a group effort.
For Spain's Under-21 side, it was a shame. So impressive at this tournament, La Roja end up with only runners-up medals in a competition they should have won. They important thing, however, will be to learn lessons for the future - Deulofeu included. 
Ceballos denies Real Madrid deal
Ultimately, Celades' decision to leave the winger on the pitch cost the team the continental crown on Friday. Only he and Deulofeu know how fit the player was, but both are responsible for this fallout. The coach should have been brave enough to haul off his struggling skipper, while the winger should have said if he was not feeling 100 per cent.
At the end of the match, the 23-year-old hid his face in his shirt and stared at the ground. Perhaps he knows he should have done better or been more honest with himself. At Barcelona, he will have to learn that the team comes first.