Ezenagu: Why Nasarawa Amazons deserve NWPL title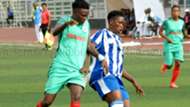 Delta Queens' Maryann Ezenagu admits her side's first half poor showing saw them bow 1-0 to Nasarawa Amazons at the Super Four tournament on Friday.
Amarachi Okoronkwo's first half header helped Christopher Danjuma's girls pip the Kwale based ladies to the Nigeria Women Premier League title at the Samuel Ogbemudia Stadium in Benin.
And the midfielder has apologised to their fans for failing to lift their sixth title in history at the expense of the Lafia ladies, while assuring them a better outing next season.
"It is okay. It is the game of football and we must win some and lose some but I never expected this because I was thinking we will have gotten the trophy with the mindset of the players," Ezenagu told Goal.
"In the second round of the season, we got a new coach and signed new players from different clubs. That was why we were up and doing and did well to finish top in our group during the season.
"Nasarawa Queens did well just as Delta Queens. But I will say they deserve to win because in the first half Delta didn't come out like they want to win the trophy and in the second half when we came out, it was already late.
"I'm pleading with the fans of Delta Queens that they should bear with us. It was not our desire to lose in the final. This year was not our year but next season we will surely fight more harder to win the trophy."